January 31, 2022
ICYMI: New Dem Chair DelBene Pushes for a Final Build Back Better Act with Strong Climate Provisions
New Dem Chair DelBene: "In order to deliver on climate, we must agree on a bill that can get 218 votes in the House and 50 votes in the Senate. New Dems believe there is a path forward by building on the existing areas of agreement and focusing on doing a few things well, for longer."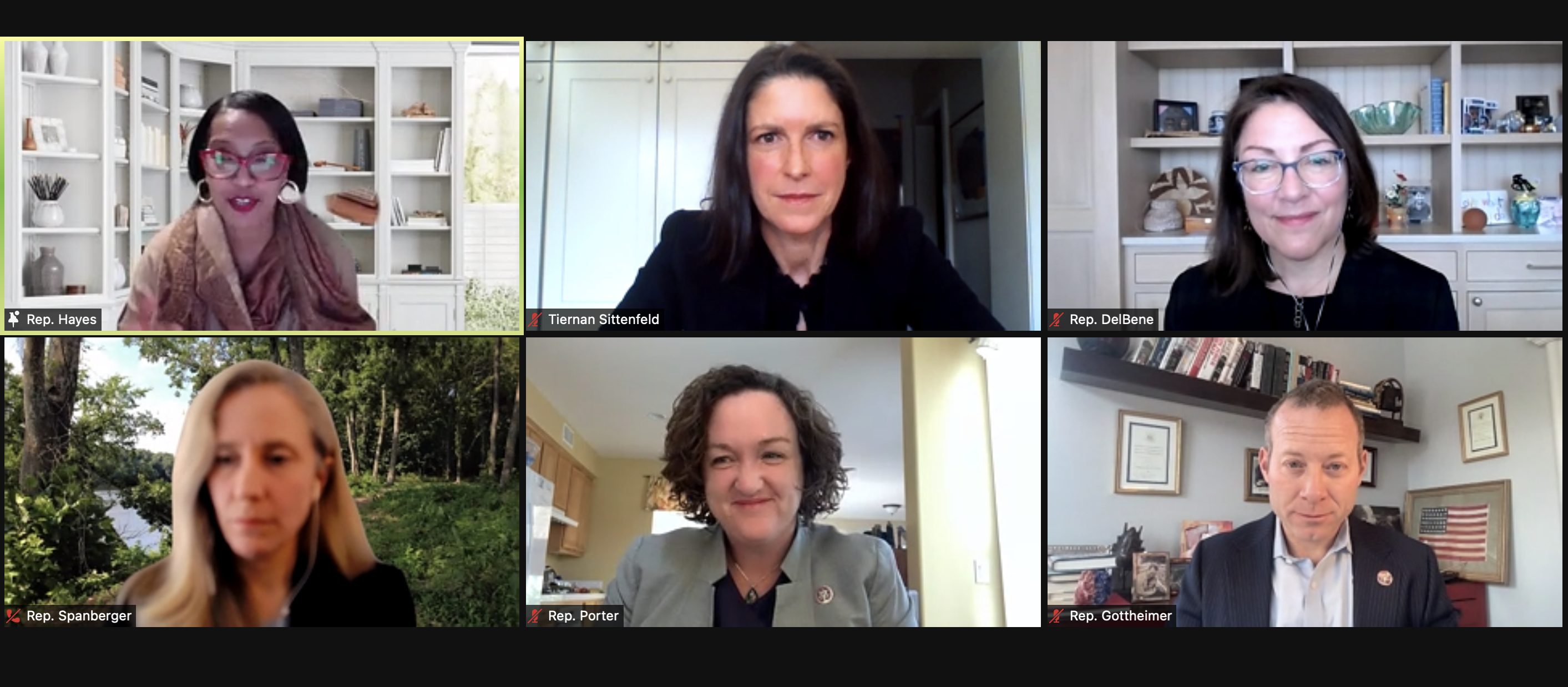 KIRKLAND, WA — Today, at a press call hosted by Climate Power and League of Conservation Voters, New Democrat Coalition Chair Suzan DelBene (WA-01) joined New Dem Members Abigail Spanberger and Josh Gottheimer, as well as Reps. Katie Porter and Jahana Hayes to call for immediate action on a final Build Back Better Act that includes strong climate provisions.
You can watch the full press conference here and read a transcript of the interview below:
"Hello everyone, good morning from the Great Northwest.
"Before I begin, I want to thank Tiernan, Climate Power and the League of Conservation Voters for organizing today's event.
"I am honored to be here with my colleagues, Representatives Spanberger, Porter, Hayes, and Gottheimer, to call for a strong agreement on a final Build Back Better Act that tackles the climate crisis and protects our planet for future generations.
"Every year, the effects of climate change hit closer to home, and unfortunately, 2021 was no exception.
"Last year, we witnessed one extreme weather event after another in communities across the country – from ice storms in Texas to flash floods on the East Coast. The loss of lives and livelihoods has been severe.
"In my own district in the Pacific Northwest, we've had record heat, extreme winter storms, and heavy flooding that have taken a devastating toll.
"Sadly, this is our new reality. Reportedly, more than 40% of Americans live in counties hit by climate disasters in 2021.
"So, the cost of inaction is too high. Last year climate related disasters cost the U.S. $145 billion alone, and this number is projected to reach $500 billion a year by the end of the century.
"Not only that, but we're also missing out on the economic growth, jobs, and opportunities of leading the global fight against climate change.
"That's why we must pass a final Build Back Better Act that tackles the climate crisis and positions the U.S. to lead the global transition to a climate-forward economy of the future.
"Congressional Democrats are united in our support of passing climate investments in this package.
"As Chair of the 97-member New Democrat Coalition, I know combatting climate change is important for every one of our members.
"Since the beginning, New Dems have made big, bold climate action one of our top priorities for the Build Back Better Act. We pushed for and secured policies in this package that would create American jobs, cut energy costs for families, build a more resilient future, and significantly reduce greenhouse gas emissions to move us toward our goal of reaching net-zero emissions by 2050 at the latest.
"In November, we made American history by passing the Build Back Better Act in the House, which included the largest effort to combat climate change.
"But our work isn't done. In order to deliver on climate, we must agree on a bill that can get 218 votes in the House and 50 votes in the Senate. New Dems believe there is a path forward by building on the existing areas of agreement and focusing on doing a few things well, for longer.
"There is broad consensus among Democrats on these climate priorities, and we'll do everything in our power to ensure the Build Back Better Act prioritizes climate and is signed into law.
"The time to act is now. Failure is not an option."
---
---
Next Article
Previous Article
--->