June 26, 2019
New Democrat Coalition Announces First Ever Economic Policy Pitch Day Champion
Washington, DC – The New Democrat Coalition congratulates Rep. Dean Phillips (MN-03) on winning the New Democrat Coalition's first ever policy pitch day. The popular vote winner was Rep. Phillips's "Companies Are Responsible Employers" (CARE) Award, a certification for businesses that share success and treat employees well by offering living wages, paid family leave, secure retirement, and other benefits. CARE certified companies would be given tax and regulatory relief and become known to consumers as companies that do right by their employees.
At pitch day, New Democrat Coalition Members pitched economic policy ideas they are developing or have introduced to the NDC Membership and a panel of guest moderators. Moderators included Anna Mason, Partner at Revolution's Rise of the Rest Seed Fund and Javier Saade, Venture Partner at Fenway Summer and former Associate Administrator of the U.S. Small Business Administration. They were asked to join us for their experience in running start-up pitch competitions and their interest in economic policy. The policy pitch day highlighted a number of bold ideas and innovative solutions Members are working on to grow the economy and give more Americans the opportunity to earn a good life.
"The New Dems are known for pushing Congress to look at old problems through a new lens. That was on full display at the policy pitch day where we heard bold ideas and innovative solutions to make sure every American, no matter their zip code, has an opportunity to earn a good living," said New Democrat Coalition Chair Derek Kilmer. "I congratulate Rep. Dean Phillips on his winning idea. Creating a certification for businesses that meet high standards in their wage, benefits, and sustainability practices can be a powerful way to encourage employers to do right by their employees."
"My experience as an entrepreneur and business owner taught me that companies respond better to carrots than sticks," said Congressman Dean Phillips. "Rewarding good behavior is good policy. The CARE Award would give an incentive to brands and businesses to treat their employees well. I look forward to working with the New Democrat Coalition to turn this idea into a reality."
Once the bill is introduced, the NDC will start a process to seek the Coalition's endorsement of the winning idea. Once the bill is endorsed, the NDC Leadership will ask Committee and House Leadership to prioritize its consideration.
Economy Policy Pitch Day Participants' Ideas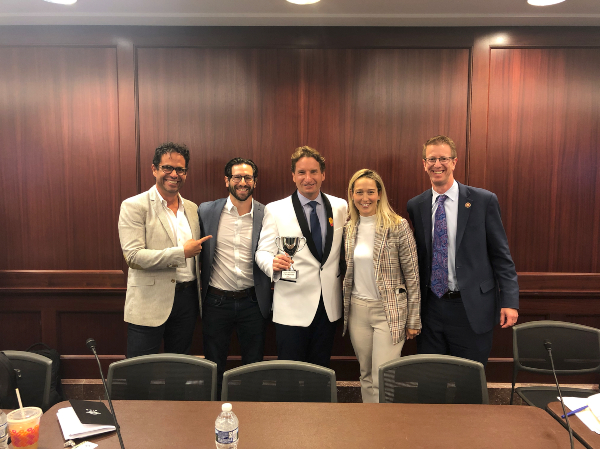 ---
---
Next Article
Previous Article
--->