March 18, 2022
New Dem Weekly Wrap 3/18/2022
New Democrat Coalition Prioritizes Long-Term Legislative Action to Deliver for Americans
This week, the New Democrat Coalition, led by Chair Suzan DelBene (WA-01), released a statement pushing for legislative action that will produce long-term and durable results for the American people.

The statement reads in part, "New Dems are the majority makers in Congress, and our members are critical to maintaining Democratic control of the House. Our constituents sent us to Congress to deliver. We must take advantage of the Democratic majorities we have and focus on passing long-term, durable legislative solutions in 2022."

Read the full statement here.
New Dems Urge Congressional Leaders to Ensure the Recompete Pilot Program to Spur Economic Growth Remains in the Final Bipartisan Innovation Bill
New Dems are committed to getting the final bipartisan innovation bill to the President's desk as soon as possible.

As Congress begins the conference process for the Senate-passed U.S. Innovation and Competition Act and the House-Passed America COMPETES Act, New Dem Leadership Members pushed Congressional leaders to ensure NDC Chair Emeritus Derek Kilmer's (WA-06)Recompete pilot program to spur economic development and create opportunities in persistently distressed communities remains in the final legislation.

The letter reads in part, "Both USICA and the America COMPETES Acts make critical investments to spur American innovation, create jobs and opportunities, empower the next generation of American innovators, and promote American values and ingenuity on the global stage. The Recompete pilot compliments those efforts, including investments in new regional innovation hubs, so we can maximize our investments and leverage the talent of hard-working Americans all across this country."

Read more here.
New Dems Meet with Secretary Cardona at Weekly Member Meeting
Our Members met with U.S. Secretary of Education Miguel Cardona this week to discuss the work the Department of Education is doing to keep schools open and safe as we turn the page on the COVID-19 pandemic, and to make sure every American child has access to high quality education.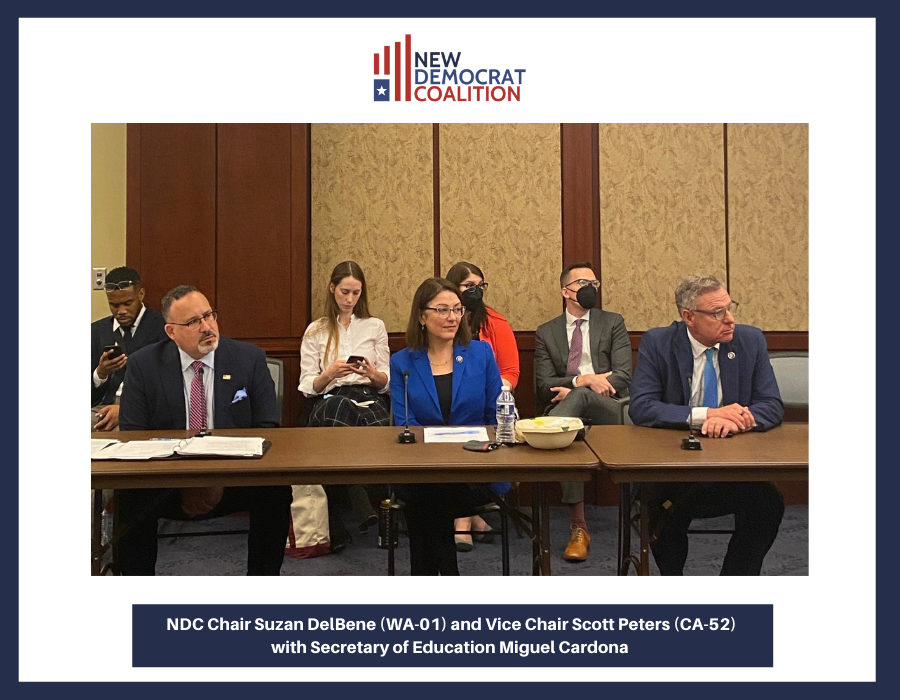 NDC Rural Reinvestment Task Force Meet with USDA Under Secretary of Agriculture for Rural Development Xochitl Torres Small
Members on the New Dem Rural Reinvestment Task Force, led by task force Co-Chairs Cindy Axne (IA-03) and Cheri Bustos (IL-17), met with former New Dem Member and current U.S. Department of Agriculture Under Secretary for Rural Development Xochitl Torres Small. Members discussed implementation of broadband programs from the bipartisan infrastructure law in their districts and how to ensure rural communities have equitable access to 21st century resources.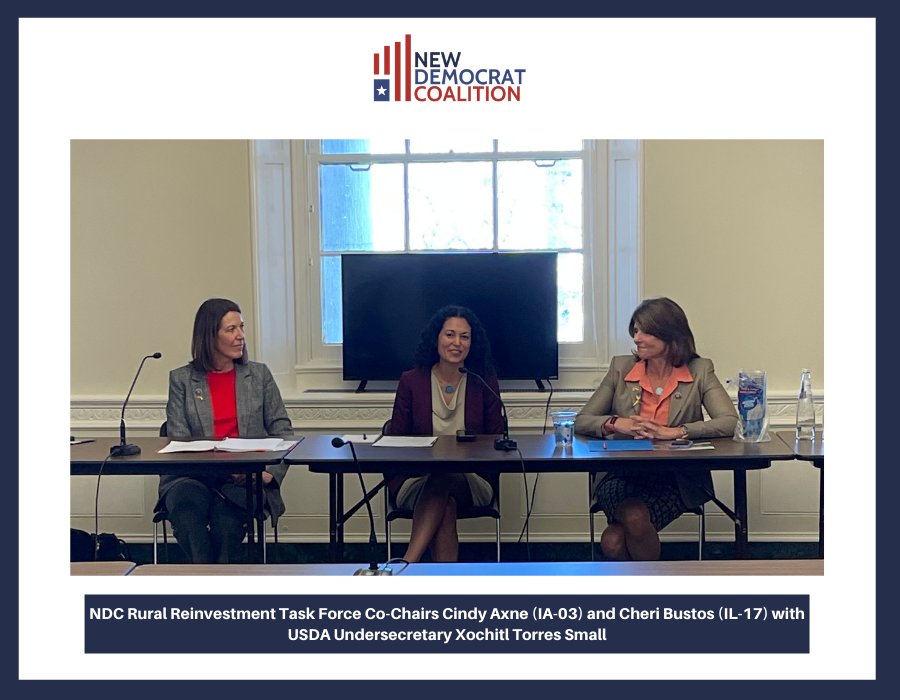 More on what New Dems have been up to below.
New Dems in the News
New Dems continue believe the best way to deliver for the American people is through legislative action that produces lasting results. Democrats control Congress and there is still so much we can accomplish this year – from the bipartisan innovation bill to bipartisan bills as part of the President's State of the Union Unity Agenda. New Dems weighed in on this in the press this week:
"If we're talking about long-term durable policy that helps people, Congress needs to act": DelBene via Politico
New Dem Chair DelBene emphasized the importance of legislative action in creating long-term policies that cannot be undone and provide certainty to families.
"Our job is to legislate. We're not here to be spectators": Peters via The Washington Post
Vice Chair for Policy Scott Peters (CA-36) said to The Washington Post, "Our job is to legislate. We're not here to be spectators."
Member Higlights
NDC Member Bill Action
Keating's Resolution to Condemn Killing and Violence on Bloody Sunday Passes House
Rep. Bill Keating's (MA-09) Resolution, H.Res 888, to condemn the killing of 14 individuals and violence on Bloody Sunday passed the House this week. This legislation also acknowledges the progress made in fostering peace in Northern Ireland and on the island of Ireland on the occasion of the 50th anniversary of the Troubles.
Case Bill to Designate Kan'ena Point as a National Heritage Area Passes House
Rep. Ed Case (HI-01)'s bill, H.R. 1908, the Ka'ena Point National Heritage Area Act, passed the House this week. This legislation would designate Ka'ena Point on Oahu, a treasured wilderness area, as Hawaii's first National Heritage Area site.
NDC Member Legislation
Connolly Introduces Bill to Make U.S. Postal Service Green
Rep. Gerry Connolly (VA-11), Chairman of the House Subcommittee on Government Operations and Co-Chair of the House Sustainable Energy and Environment Coalition, led 68 Members of Congress in introducing H.R. 7018, the Green Postal Service Fleet Act. This legislation that would prohibit the U.S. Postal Service (USPS) from carrying out any purchase of a new fleet of delivery vehicles unless 75 percent of the new vehicles are electric or otherwise emissions-free.?
Trahan, Morelle, Crow Introduce Bill to Increase Workers' Access to Apprenticeship Programs
Reps. Lori Trahan (MA-03), Joe Morelle (NY-25), and Jason Crow (CO-06) reintroduced H.R. 7145, the Apprenticeship Support for Small Employers and Teams (ASSET) Act to provide workers with more opportunities to enroll in valuable apprenticeship programs. This legislation authorizes the Department of Labor to provide grants to small- and medium-sized businesses to encourage their participation in the national apprenticeship system.
Slotkin, Sherill, and Lee Introduce Bill to Restrict Putin's Access to Gold
Reps. Elissa Slotkin (MI-08), Mikie Sherrill (NJ-11), and Susie Lee (NV-03) introduced the House version of S. 3771, the bipartisan Stop Russian GOLD Act. This legislation would prevent Russia's Central Bank from using its extensive gold reserves to fund the government's unprovoked and inhumane war against Ukraine.
Escobar Introduces Bill to Ban the Use of Gestational Sow Stalls
Rep. Veronica Escobar (TX-16) introduced H.R. 7004, the Pigs in Gestation Stalls (PIGS) Act to improve the swine industry's animal welfare standards. This legislation would permanently ban the use of gestation stalls, which are used to house pregnant pigs and would require the pigs to have at least 36 square feet of space to lie down, stand up, and move about freely.
NDC Member Action
Trahan, Morelle, and Crow Calls for Apprenticeship Subsidies for Employers via Bloomberg Law
This week, Bloomberg Law previewed Reps. Lori Trahan (MA-03), Joseph Morelle (NY-25), and Jason Crow's (CO-06) new legislation, the Apprenticeship Support for Small Employers and Teams (ASSET) Act. This legislation would provide grants to subsidize apprenticeship programs, which are a pathway to the middle class, in small-and medium sized businesses.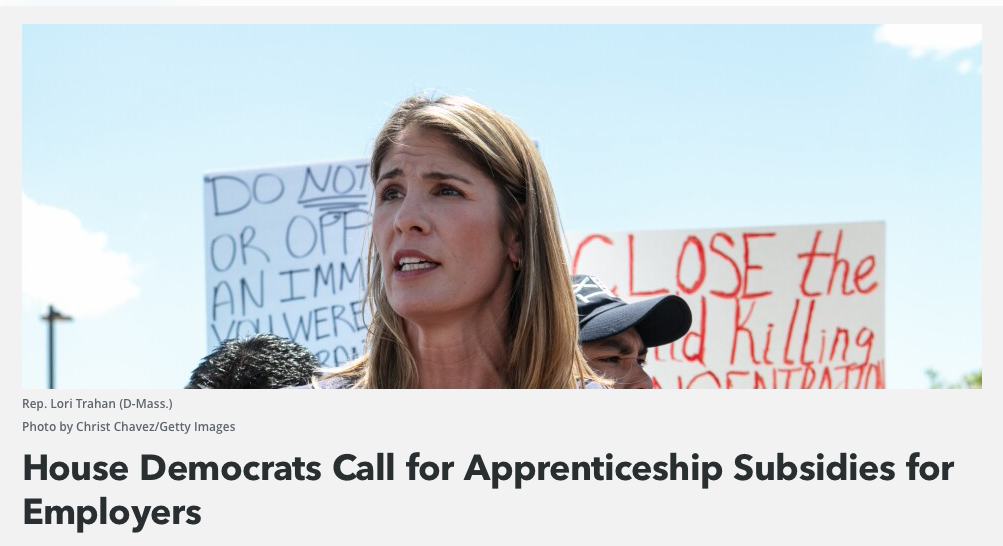 Fletcher Leads Letter to Treasury Seeking Support for Local Governments in Expanding Broadband Congresswoman
Rep. Lizzie Fletcher (TX-07) led a letter to Secretary of the Department of the Treasury Janet Yellen requesting further guidance on how local governments can use Coronavirus State and Local Fiscal Recovery Fund (SLRF) grants to expand broadband infrastructure and deployment in their communities. The letter asks for clarification in SLRF guidance to assure communities they can use this funding to expand and strengthen their zoning and permitting offices to contribute to the efficient deployment of broadband networks.
Crow Presses Biden Administration to End Federal Contracts with For-Profit ICE Facilities
Rep. Jason Crow (CO-06) led a letter to the Department of Homeland Security Secretary Alejandro Mayorkas and ICE Acting Director Tae D. Johnson requesting the suspension of ICE detention expansion, phase out of private, for-profit facilities, and a review of all ICE detention facilities.
---
---
Next Article
Previous Article
--->