May 19, 2023
New Dem Weekly Wrap 5/19
Press Release
New Dems Push for Additional Funding for Public Safety Programs and Reject GOP Cuts to Law Enforcement Agencies
The Coalition also Calls on Republicans to Join New Dems in this Effort to Increase Critical Resources for Local and National Law Enforcement Agencies
Yesterday, New Democrat Coalition Members, led by Rep. Eric Sorensen (IL-17), sent a letter to House Appropriations Committee Chairwoman Kay Granger (TX-12) and Ranking Member Rosa DeLauro (CT-03) calling on the Committee to reject Republican leadership's dangerous cuts to public safety programs and instead to increase funding to ensure law enforcement agencies have the resources they need to keep communities safe across the country. 
The partisan Republican bill that recently passed the House would require devastating cuts that would strip law enforcement officers of the tools and personnel needed to do their jobs safely and effectively. These cuts include a 23% reduction in local law enforcement agencies receiving federal support, a 21-27% reduction in the number of federally-funded law enforcement positions, a decrease of 11,000 staff at the Federal Bureau of Investigation, and a hiring freeze at the Bureau of Alcohol, Tobacco, and Firearms. Rather than bolstering public safety resources and keeping our communities safe, Republican leadership is pulling critical funding.
While Republicans work to gut the funding that keeps our communities safe, New Dems propose Congress effectively fund law enforcement agencies and call on Republicans to join this effort. 
READ OUR FULL RELEASE AND LETTER
New Dems in Action
New Dems Welcome White House Senior Advisor John Podesta to Weekly Member Lunch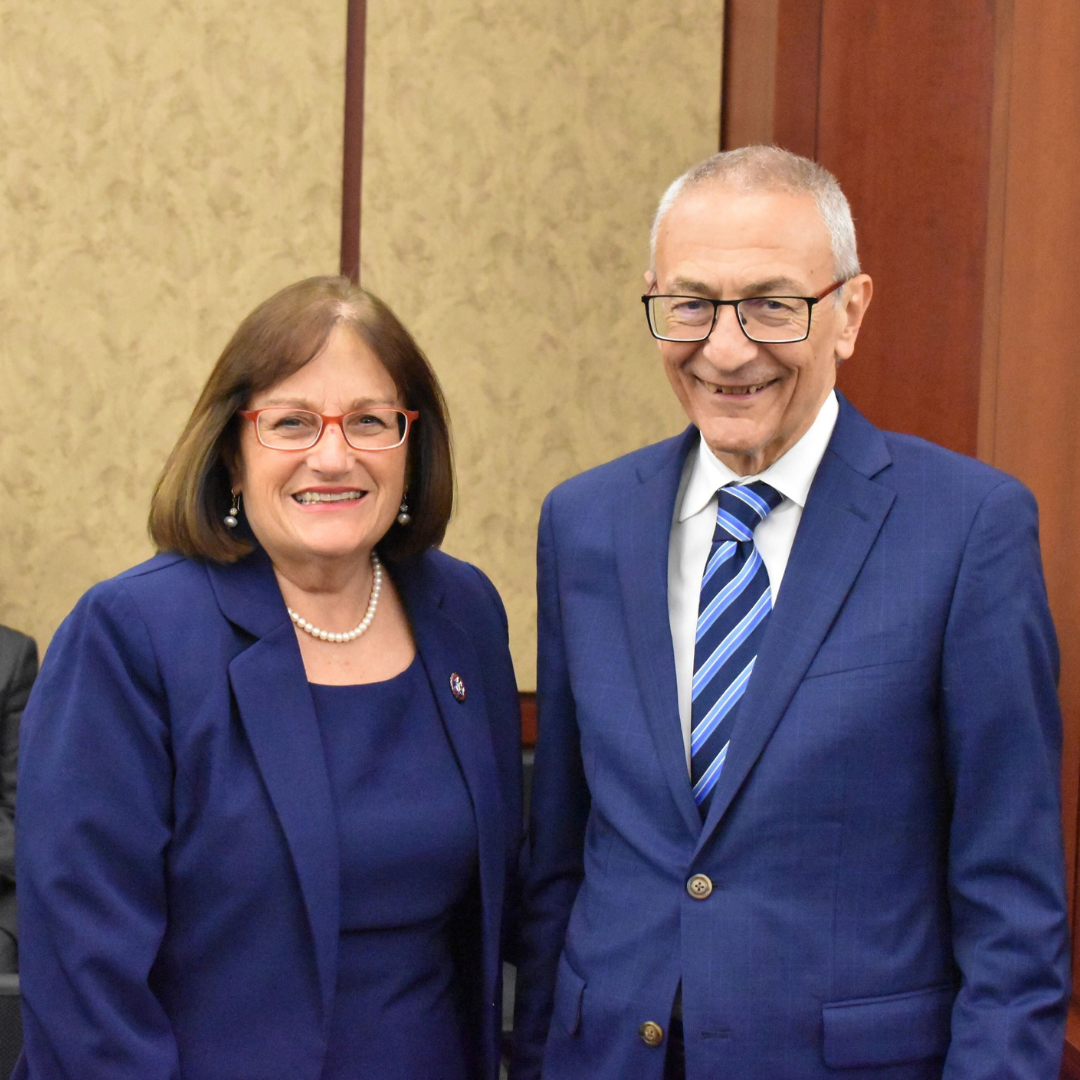 This week, New Dems welcomed White House Senior Advisor John Podesta to our weekly Member lunch. Our Members discussed the implementation of the Inflation Reduction Act, CHIPS and Science Act, and our efforts to enact permitting reform to accelerate clean energy deployment & meet our climate goals.
Member Spotlight
Rep. Susan Wild (PA-07) is leading the charge to make her district home to one of the 20 Tech Hubs funded through the CHIPS and Science Act's Regional Technology and Innovation Hub Program. Wild played a critical role in including this program as part of the CHIPS and Science Act that was signed into law by President Biden last summer. Now, she is working to secure up to $75,000,000 in funding to promote economic development in critical technology–– further solidifying the Lehigh Valley as an attractive region for entrepreneurs and technologists to live and work.
Member Legislation
Costa Introduces Emergency Wildfire Fighting Technology Act
Rep. Jim Costa (CA-21) introduced H.R. 3389, the Emergency Wildfire Fighting Technology Act. This bipartisan legislation evaluates and updates deployment protocols for Containerized Aerial Fire Fighting Systems (CAFFS). This legislation responds to the urgent need to increase investment in alternative firefighting systems following some of the largest and most destructive wildfires in California's history happening in the last five years. 
Kilmer Introduces Bipartisan HAVENS Act to Address Veteran Homelessness
Rep. Derek Kilmer (WA-06) introduced H.R. 3326, the Housing America's Veterans and Ensuring They Have Needed Services (HAVENS) Act. This bipartisan legislation aims to provide housing solutions for veterans experiencing homelessness by establishing a new pilot program within the U.S. Department of Veterans Affairs (VA) Grant and Per Diem (GPD) program to establish individualized transitional homes, offering more affordable housing options for veterans. These individualized homes, also known as "tiny homes," offer enhanced safety and privacy and are essential for specific veteran populations, including women and members of the LGBTQ+ community.
Kilmer, Pettersen Introduce Bipartisan YIMBY Act to Tackle Housing Crisis and Lower Costs
Rep. Derek Kilmer (WA-06) and Brittany Pettersen (CO-07) introduced H.R. 3507, the Yes In My Backyard (YIMBY) Act. This bipartisan legislation seeks to help overcome barriers to increasing home construction, including outdated zoning, slow permitting, and discriminatory land use policies. The YIMBY Act ensures that recipients of the Community Development Block Grant (CDBG) program report on policies that could potentially impact housing affordability.
Pappas Introduces Bipartisan Legislation to to Protect Telehealth Access for Americans
Rep. Chris Pappas (NH-01) introduced H.R. 3440, the Protecting Rural Telehealth Access Act. This bipartisan legislation expands access to health care and saves patients time and money by making permanent Medicare coverage of telehealth services allowed during the COVID-19 pandemic.
Torres, Correa Reintroduce Remote Naturalization Act
Rep. Norma Torres (CA-35) and Lou Correa (CA-46) reintroduced H.R. 3544, the Remote Naturalization Act. This legislation gives naturalized U.S. citizens the option to take their naturalization oath via videoconferencing technology or over the phone. Since 2015, a growing naturalization application backlog has left hundreds of thousands of new Americans mere steps away from citizenship. During the COVID-19 pandemic, the bipartisan Heroes Act managed this backlog by allowing naturalized citizens to take the oath of allegiance remotely, and this bill makes this option permanent.
Wexton Introduces Bipartisan Legislation to Boost Support for Childhood Cancer Research
Rep. Jennifer Wexton (VA-10) introduced H.R. 3391, the Gabriella Miller Kids First Research Act 2.0. This bipartisan, bicameral legislation reauthorizes and increases funding for the National Institute of Health's Kids First Pediatric Research Program, which has supported life saving research of treatments for childhood cancer. The bill is named in honor of Gabriella Miller, a Virginia-10 resident who was diagnosed with an inoperable brain tumor and passed away in 2013 at age 10. Wexton is working across the aisle to boost funding for the program before it expires at the end of this Fiscal Year.
Bipartisan Spotlight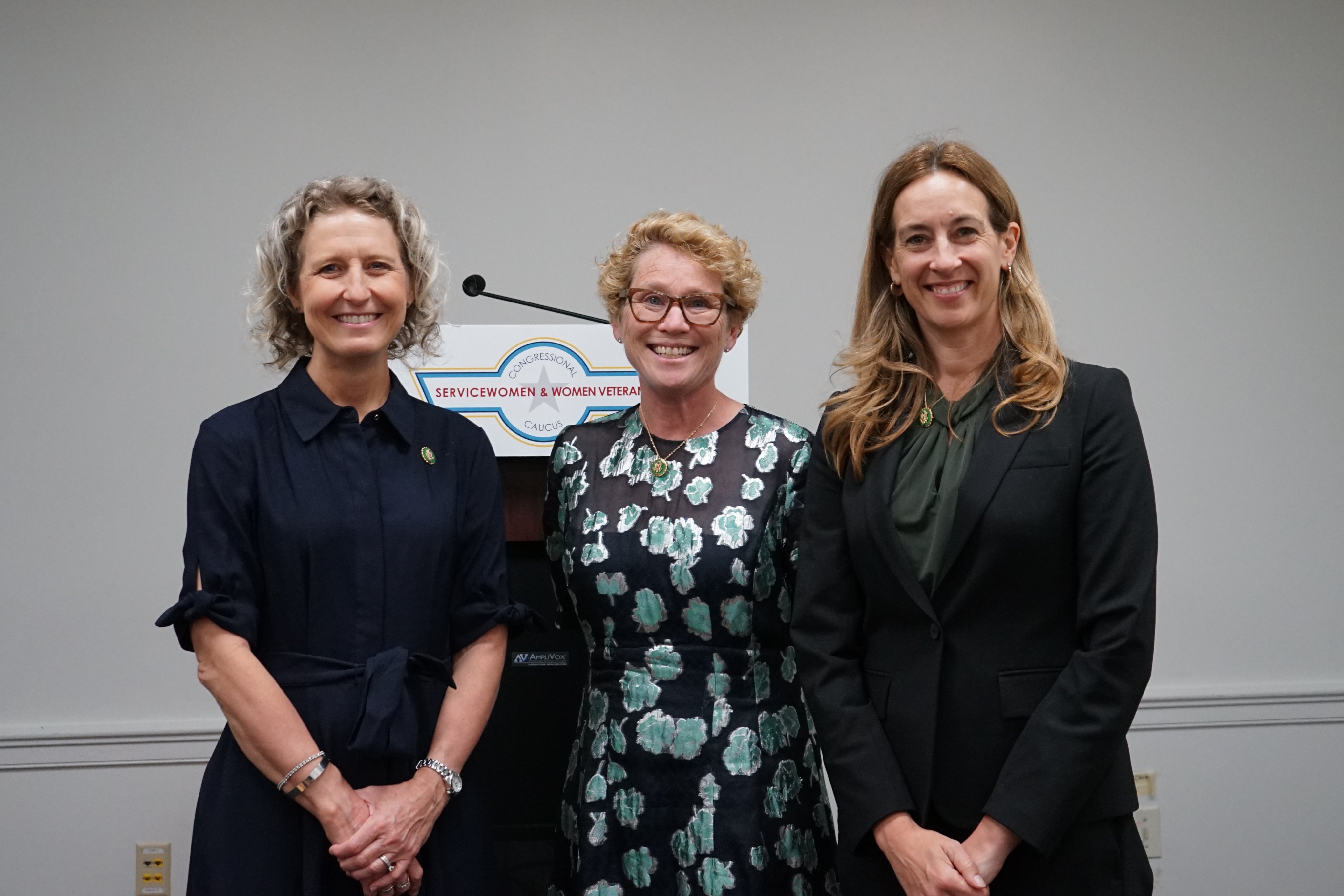 This week, Reps. Chrissy Houlahan (PA-06) and Mikie Sherrill (NJ-11) relaunched the bipartisan Servicewomen and Veterans Caucus alongside Republican Congresswoman Jen Kiggans (VA-02). The three co-chairs relaunched this caucus as part of their continued efforts to fight for better access to healthcare, childcare, and protections from sexual assault and harassment for servicewomen and veterans. 
Check This Out!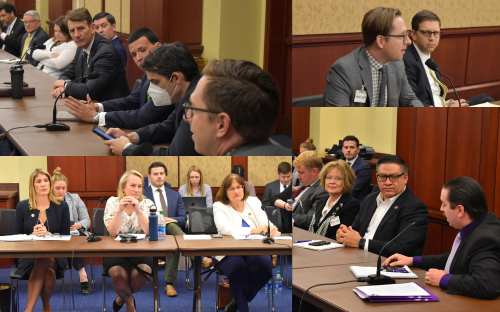 This week, New Democrat Coalition Chair Annie Kuster (NH-02) and Freshman Leadership Representative Nikki Budzinski (IL-13) hosted a roundtable discussion with labor stakeholders and New Dem Members. Our Members and stakeholders had a productive conversation about ways to advance shared priorities like implementation of the Bipartisan Infrastructure Law and identified areas for further collaboration in the 118th Congress.
Tweet of the Week
---
---
Next Article
Previous Article
--->