February 04, 2022
ICYMI: New Democrat Coalition Leadership Calls for Swift Congressional Action on American Competitiveness Legislation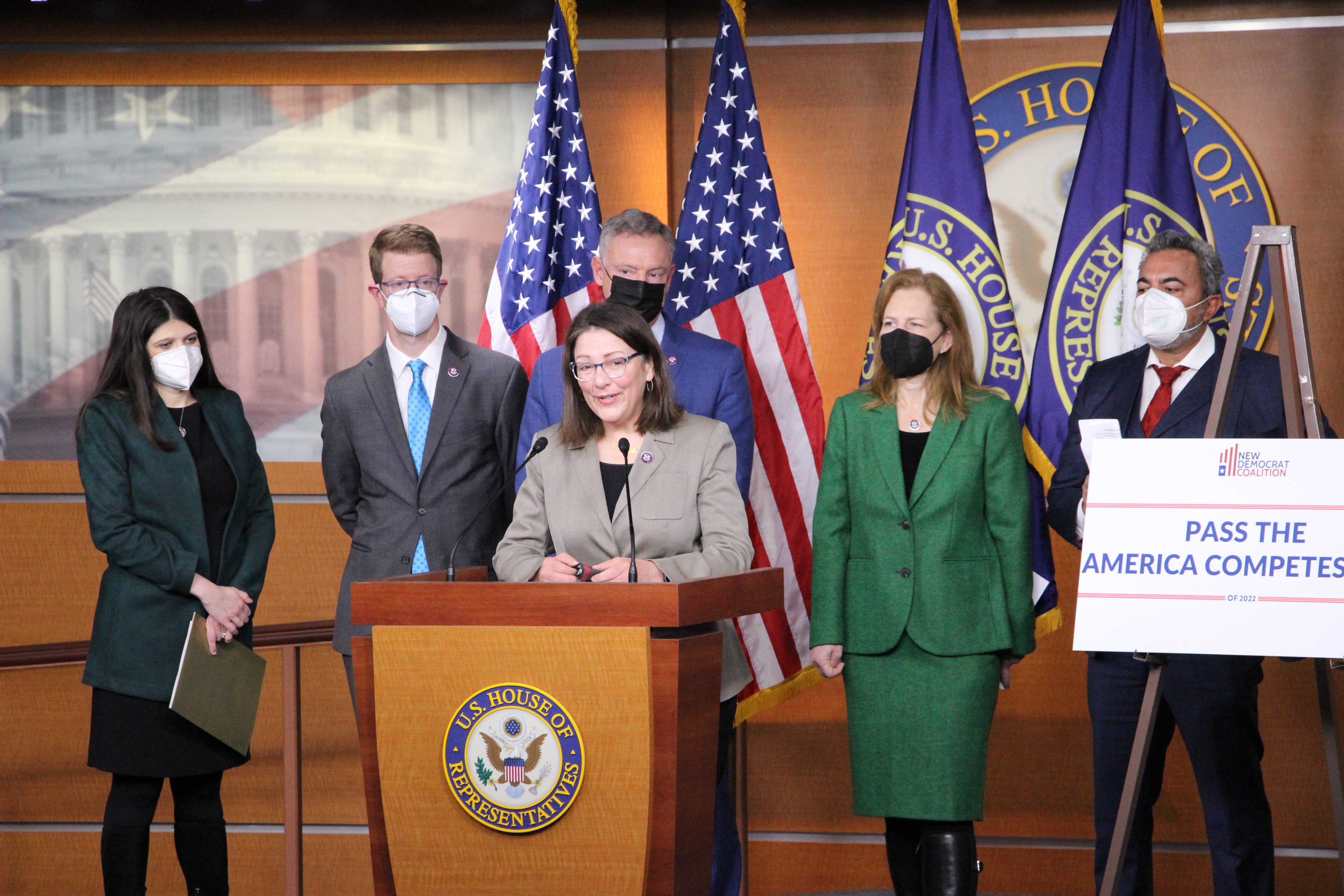 Today, New Democrat Coalition Leadership Members Chair Suzan DelBene (WA-01), Vice Chair for Policy Scott Peters (CA-52), Vice Chair of Outreach Ami Bera (CA-07), Chair Emeritus Derek Kilmer (WA-06), Future of Work and Capitalism Task Force Co-Chair Haley Stevens (MI-11), and Health Care Task Force Co-Chair Kim Schrier (WA-08) held a press conference to call for swift Congressional action on the America COMPETES Act. This American competitiveness legislation will address the economic challenges families are facing and create opportunities for Americans to succeed in the 21st century.
You can watch the full press conference here and read Chair DelBene's remarks below:
"Good morning everyone, thank you for joining us. I'm Suzan DelBene, Chair of the New Democrat Coalition, and I'm honored to be here with my fellow New Dems, Representatives Scott Peters, Ami Bera, Derek Kilmer, Haley Stevens, and Kim Schrier.
"As the House gets ready to pass the America COMPETES Act, we're here to call on our colleagues on both sides of the aisle to come together and reach a strong, bipartisan agreement on the final bill as soon as possible, both in the House and the Senate.
"Under the leadership of President Biden and our Democratic majorities in Congress, our economy is roaring, and the recovery has been strong. Unemployment has reached a record low, millions of jobs have been created, wages have increased, and child poverty has decreased. But despite this historic progress, real economic challenges still remain.
"The ongoing COVID-19 pandemic, supply chain disruptions, and decades of underinvestment in U.S. infrastructure and manufacturing have resulted in higher prices for Americans at the grocery store and the gas pump. The Biden Administration and Congress have acted to ease inflation by clearing bottlenecks at ports, working to lower the price of gas, and enacting a bipartisan infrastructure law that is making a difference across the country already – but there is more to be done.
"That's why New Dems have been leading the push since last year to finalize and pass a robust American competitiveness bill that tackles the issues weighing heaviest on American families and set the U.S. up for long-term economic success. For months, we have been working to craft this legislation and advance solutions that deliver results for Americans.
"In our view, a strong American competitiveness bill should secure our supply chains for critical goods and technologies like microchips and semiconductors, create jobs and spur innovation across the country – not just on the coasts – increase investments in scientific and engineering research, and strengthen American global leadership.
"Americans are hard-working, innovative, and hopeful, and the best thing we can do is get a final bill that reflects these principles and make sure that bill gets across the finish line to show Americans that Democrats deliver and governance can work. That's why we are here today.
"New Dems will continue working to ensure the final package reflects our priorities and makes it to the President's desk as soon as possible.
"Our nation faces big challenges, but we aren't intimidated. We are excited about these opportunities ahead and are ready to make a difference, not only in the lives of the American people today but for future generations to come."
---
---
Next Article
Previous Article
--->