March 04, 2022
New Dem Weekly Wrap 3/4/2022
New Democrat Coalition Chair Applauds President Biden's First State of the Union Address
Following President Biden's first State of Union address, New Democrat Coalition (NDC) Chair Suzan DelBene (WA-01) released a statement highlighting the President's leadership on the issues that matter most to Americans.

The statement reads in part, "New Dems have already delivered on key elements of the President's domestic agenda, including the American Rescue Plan and the Bipartisan Infrastructure Law, but there is more to be done. We look forward to continuing this progress and working with President Biden to build a better America. Our members are clear-eyed about the challenges that lie ahead, and we are excited to continue our work."

Read more here.
New Dems Hear from NDC Committee Chairs about the Russian Invasion of Ukraine
This week, House Foreign Affairs Committee Chair Gregory Meeks (NY-05), House Armed Services Chair Adam Smith (WA-09), and House Intelligence Committee Chair Adam Schiff (CA-28) met with their fellow New Dem Members to discuss the Russian assault on Ukraine and actions the U.S. is taking to defend democracy and support Ukraine.
DelBene Joins House Caucus Leaders to Call for Urgent Action to Deliver President Biden's Domestic Agenda
In advance of the President's State of the Union address, New Democrat Coalition Chair Suzan DelBene joined leaders of the other Democratic caucuses in the House–the Congressional Progressive Caucus, the Congressional Asian Pacific American Caucus, the Congressional Black Caucus, the Congressional Hispanic Caucus, the Democratic Women's Caucus, the Congressional LGBTQ+ Equality Caucus, and the Sustainable Energy and Environment Coalition–to call for action on a strong, final negotiated reconciliation bill.

The statement reads in part, "We must move to reach a final agreement and focus on policies that will deliver immediate and lasting results for Americans…It's not too late to meet this moment. There is broad consensus on the most critical solutions Americans need to lower costs for families, tackle the climate crisis, and create opportunities and good-paying jobs. It is time to act."

Read the full statement here.
More on what New Dems have been up to below.
New Dems in the News
"It's an Important Moment for the Country and the President": Peters via Bloomberg
NDC Vice Chair Rep. Scott Peters (CA-52) joined Bloomberg's Balance of Power ahead of the President's first State of the Union address to discuss the priorities New Dems are focused on right now, including lowering costs for Americans.

"Axne has made combatting inflation a priority" via Time
Rep. Cindy Axne (IA-03) knows Iowans in her district and Americans across the country are concerned with the rising prices of everyday goods and gas. Time recently covered her recent work to combat inflation.

"In the short term, she's laid out a "Supply Chain Solutions Agenda" urging congressional colleagues to pass bills addressing trucker shortages, port congestion, skilled trades gaps in the manufacturing industry, and more. She's also joined a working group to advance legislative solutions to inflation through the New Democrat Coalition, which is made up of moderate Democrats."

"Biden's SCOTUS pick, representation should still matter": Meeks via The Hill
Rep. Gregory Meeks (NY-05) penned an op-ed in The Hill supporting President Biden's commitment to appoint a Black woman to the Supreme Court. He writes, "We should support his final decision to appoint a Black woman because it is the right thing to do for democracy's sake. Without diverse representation in our institutions, democracy dies."

We can't pass up the opportunity to lower drug prices: Wild via The Hill
Rep. Susan Wild (PA-07) penned an op-ed in The Hill urging for Congress to act now and lower drug prices for Americans. She writes, "lowering drug prices is massively popular with the public — among both Democrats and Republicans — and has the support of all 50 Democrats in the Senate. There's nothing stopping Congress from passing a legislative package today that would lower prescription drug prices for American families."
Member Highlights
NDC Member Bill Action
Meeks Resolution Affirming Support for Ukraine Passes the House
Rep. Gregory Meeks' (NY-05) resolution, H.Res. 956, Supporting the People of Ukraine passed the House with overwhelming support. This resolution sheds light on the horrific acts committed by the Putin regime, demands an immediate ceasefire and full withdrawal of Russian forces from sovereign Ukrainian territory, and reaffirms Ukrainian sovereignty over Crimea and Donbas.
Bustos Bill to End Forced Arbitration for Sexual Assault and Harassment Signed Into Law
Rep. Cheri Bustos' (IL-17) bill, H.R. 4445 the Ending Forced Arbitration of Sexual Assault and Sexual Harassment Act, was signed into law by President Biden yesterday. Bustos' bill previously passed the House last month. This bipartisan legislation will void forced arbitration agreements, allowing survivors of sexual assault and harassment the freedom to decide what legal path works for them.
NDC Member Legislation
Kilmer Introduces Legislation with 9 Democrats and 9 Republicans to Support Civic Bridgebuilding in Local Communities and Address Polarization
NDC Chair Emeritus Derek Kilmer (WA-06) introduced H.R. 6843 the Building Civic Bridges Act. This legislation would empower communities to tackle sources of division while assisting local civic and community organizations with ongoing efforts to address contentious issues and ultimately, bridge divides. The legislation would create a new non-partisan pilot program, led by an Office of Civic Bridgebuilding within AmeriCorps, focused on building relationships across lines of difference.

Fletcher and Slotkin Introduce Legislation to Promote American Energy in Europe
Reps. Lizzie Fletcher (TX-07) and Elissa Slotkin (MI-08) introduced H.R. 6874 the American Energy for Europe Act to establish a program at the Department of Energy to assist our European partners in replacing Russian natural gas, oil, and nuclear supplies with American energy.

McEachin Introduces Bipartisan African American Burial Grounds Preservation Act
In honor of Black History Month, Rep. Donald McEachin (VA-04) introduced H.R. 6805 the African American Burial Grounds Preservation Act. There is no official national record or database for African-American burial ground locations, and the location of many sites is unknown. The bipartisan bill would establish a program at the National Park Service to provide grant opportunities and technical assistance to local partners to research, identify, survey, and preserve these historic resting places.
NDC Member Action
President Biden Joins Kind in Wisconsin to Highlight Bipartisan Infrastructure Law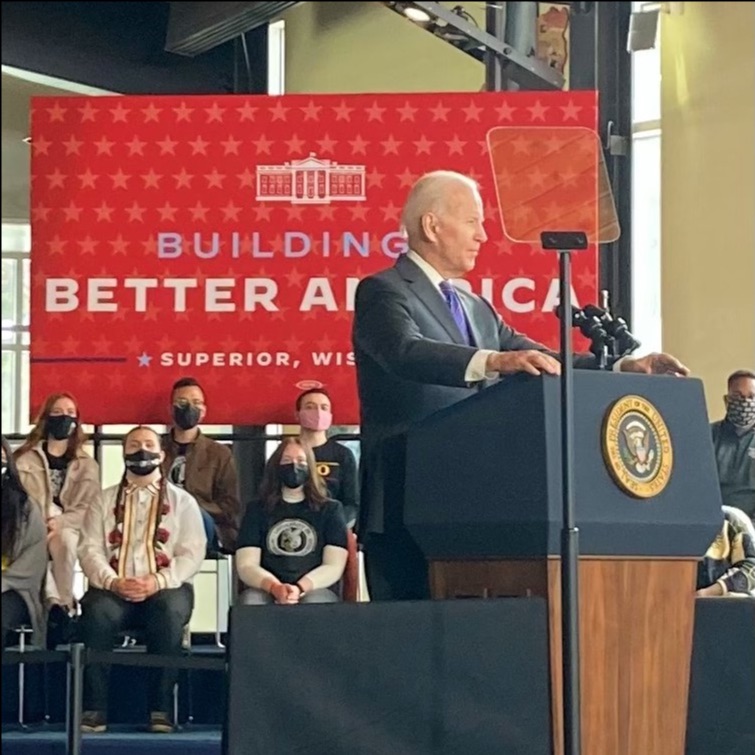 President Biden joined Rep. Ron Kind (WA-03) in Wisconsin this week to highlight the historic investments, from expanding broadband access to fixing our roads and good jobs the Bipartisan Infrastructure law will bring to the state!
Larsen Speaks with Transportation Trades Department About Green Transit and Good Union Jobs
Rep. Rick Larsen (WA-02) spoke with the President of the Transportation Trades Department about the historic investments in the Bipartisan Infrastructure law that will boost green transit and great good jobs!
---
---
Next Article
Previous Article
--->