February 11, 2022
New Dem Weekly Wrap 2/11/2022
New Democrat Coalition Announces Creation of a New Working Group Focused on Fighting Short- and Long-Term Inflationary Pressures  
This week, the New Democrat Coalition (NDC) announced the formation of a new Inflation Working Group. Members will work to advance policy solutions to lower costs for American families, free up supply chains, and fight inflationary pressures over the short- and long-term.  

NDC Chair Suzan DelBene (WA-01): "From feeding their families to heating their homes, New Dems have heard how inflation is impacting our constituents' daily lives. Our members are listening and have established the Inflation Working Group to advance policies that will address these challenges and lower prices for Americans."
NDC Vice Chair for Policy Scott Peters (CA-52): "This new working group – the first of its kind within the New Democrat Coalition—will push for solutions that target the sources of inflation, strengthen supply chains, and ease escalating prices. Our coalition is taking charge to ensure our constituents can take full advantage of our robust economy." 
New Democrat Coalition Trade Leaders Applaud US-Japan 232 Tariff Agreement
Following the announcement of a new agreement with Japan on the section 232 steel tariffs, New Dem Trade Leaders, Trade Task Force Co-Chairs Ron Kind (WI-03) and Lizzie Fletcher (TX-07), NDC Chair Suzan DelBene (WA-01), and Vice Chair for Policy Scott Peters (CA-52) released a statement. 
The statement reads in part, "New Dems welcome the agreement the Biden administration has made with Japan to allow the duty-free import of steel from Japan, and we look forward to further progress to roll-back Trump era Section 232 tariffs on steel and aluminum imports from other allies and close trading partners. Eliminating these tariffs will provide relief for domestic manufacturers and consumers at a time when prices are rising for American families."
Read the full statement here. 
ICYMI: New Democrat Coalition Calls for Swift Congressional Action on American Competitiveness Legislation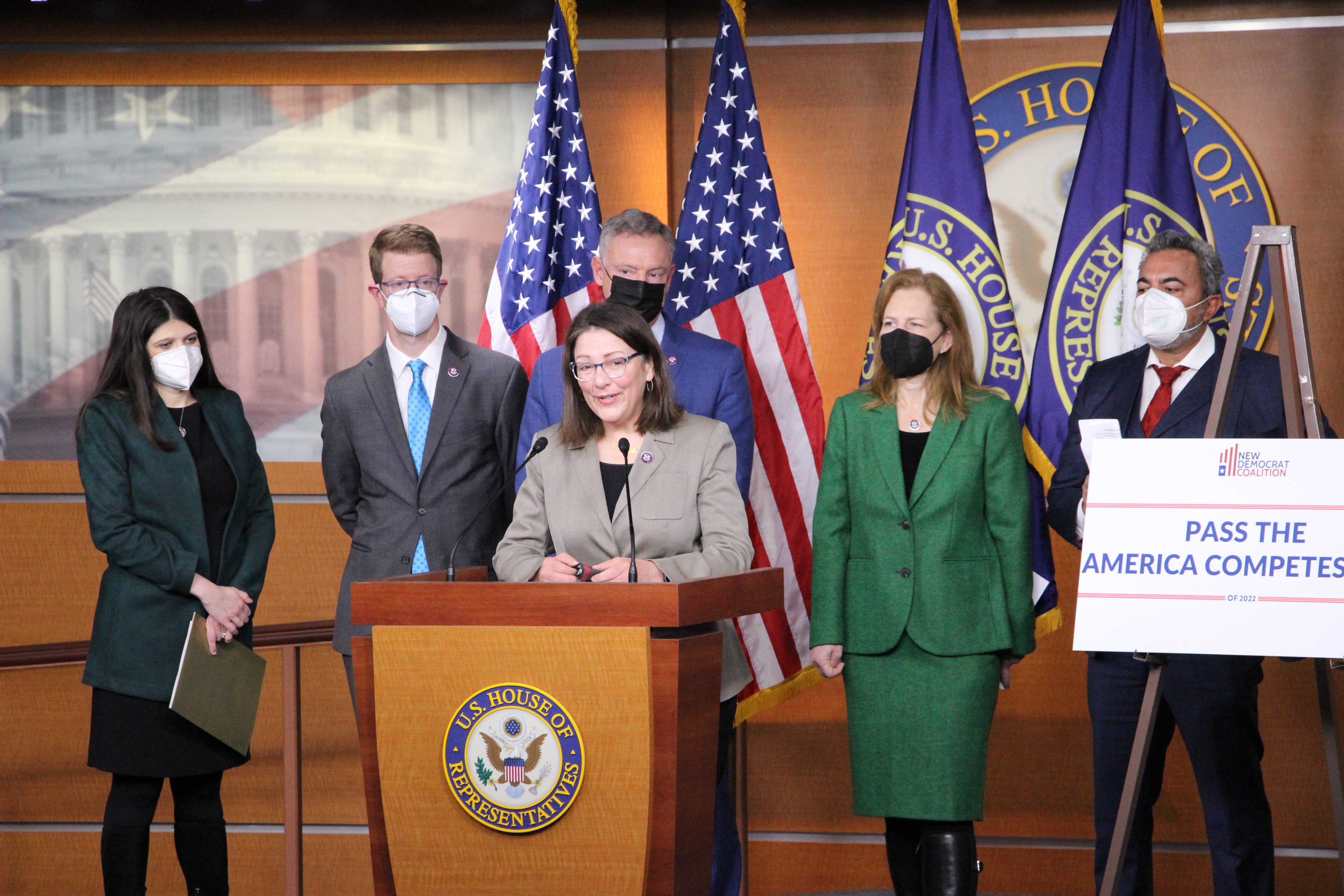 Last Friday, New Dem Chair Suzan DelBene (WA-01), Vice Chairs Scott Peters (CA-52) and Ami Bera (CA-07), Chair Emeritus Derek Kilmer (WA-06), New Dem Reps. Haley Stevens (MI-11), and Kim Schrier (WA-08) held a press conference to call for swift Congressional action on the America COMPETES Act. Chair DelBene reiterated that "New Dems will continue working to ensure the final package reflects our priorities and makes it to the President's desk as soon as possible." 
New Dems voted to pass the America COMPETES Act through the House last week and have been deeply involved in shaping this legislation to ensure it combats long-term inflation and cuts costs, spurs innovation, creates jobs, and strengthens American leadership. 
More on what New Dems have been up to below.  
New Dems in the News
New Dems Take Action to Address Economic Challenges Facing Americans via Axios Sneak Peek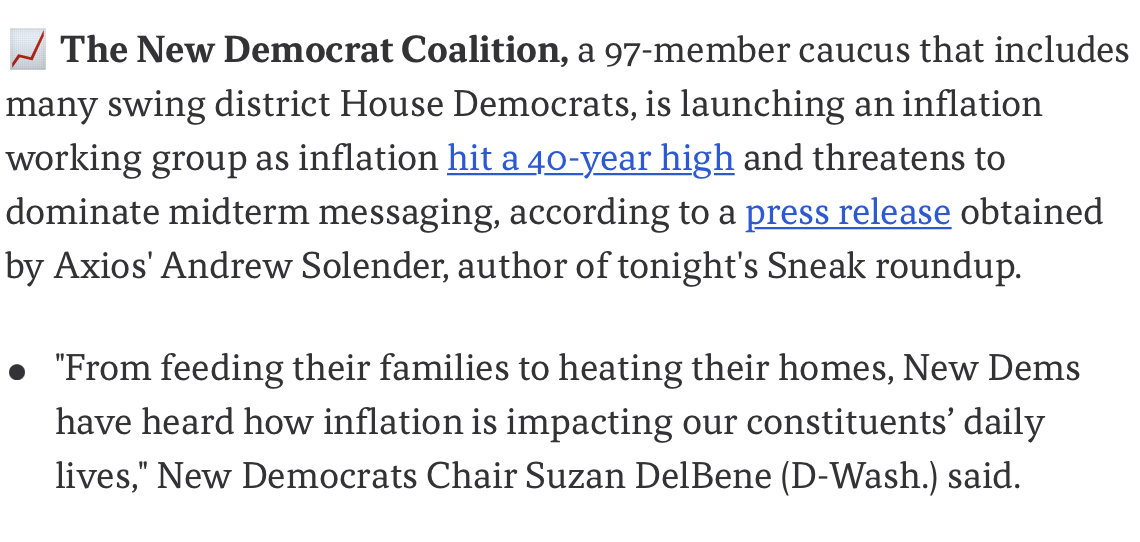 The new NDC Inflation Working Group will identify, develop, and advance policy solutions to combat inflationary pressures. 
Davids' Amendment Included in America COMPETES Act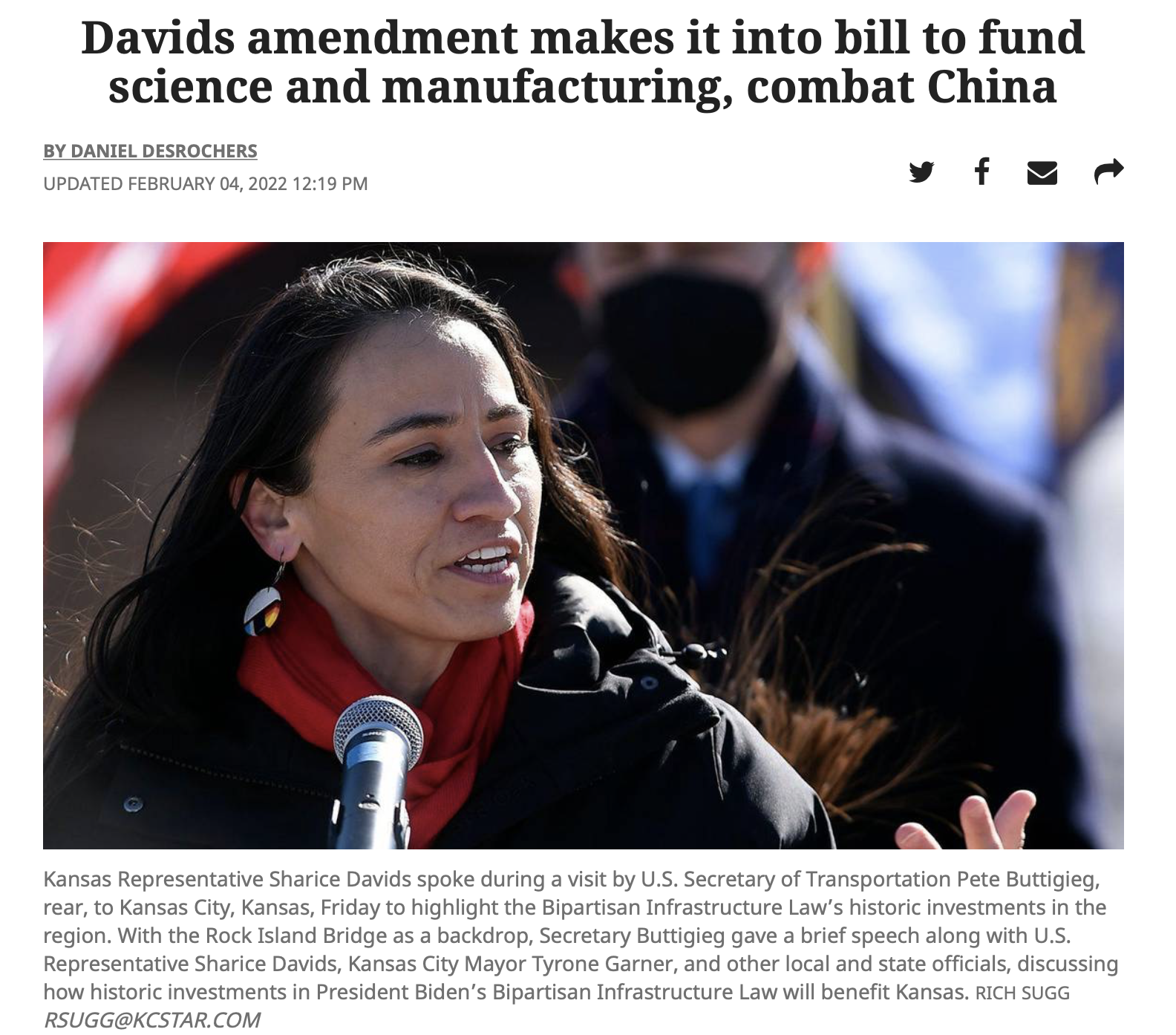 NDC Vice Chair Rep. Sharice Davids's (KS-03) amendment to support small manufacturers was included in the House-passed America COMPETES Act. The Kansas City Star covers how Davids got the idea for this policy after hearing from a small manufacturer trying to get a grant to produce N95 masks at the start of the pandemic.
NDC HIGHLIGHTS:
Bill Action
Bustos Bill to End Forced Arbitration for Sexual Assault and Harassment Passes House 

Rep. Cheri Bustos' (IL-17) bill, H.R. 4445 the Ending Forced Arbitration of Sexual Assault and Sexual Harassment Act, passed the House on Monday. This bipartisan legislation will void forced arbitration agreements, allowing survivors of sexual assault and harassment the freedom to decide what legal path works for them. This legislation subsequently passed the Senate on Thursday and is now headed to the President's desk to become law. 
New Member Legislation
Manning Introduces Bill to Expand Access to Maternal Health Care
NDC Leadership Member Kathy Manning (NC-06) introduced H.R. 6612, the Advancing Maternal Health Equity Under Medicaid Act. This legislation will expand access to vital health services during and after pregnancy for people with Medicaid coverage, to advance reproductive and maternal health justice, and to save lives. 


Trahan Introduces Bill to Protect Americans' Online Privacy and Data
Rep. Lori Trahan (MA-03) introduced the bicameral Da[SC5] [KK6] ta Elimination and Limiting Extensive Tracking and Exchange (DELETE) Act. This bipartisan legislation would create a system for individuals to request all data brokers, companies that collect personal data for commercial use, delete any personal data the broker may have collected and to not collect it in the future.
Costa Introduces Bill to Make Transatlantic Legislators' Dialogue the Official Group of US Congress-European Parliament Relations
Rep. Jim Costa (CA-16) introduced the Transatlantic Legislators' Dialogue Act, legislation that would give official status to the Transatlantic Legislators' Dialogue and expand the group's U.S. delegation to include members of the U.S. Senate. The Transatlantic Legislators' Dialogue supports relationships between members of the U.S. House of Representatives and European Parliament. Rep. Costa co-chairs the group with Rados?aw Sikorski, Member of the European Parliament.   
NDC Member Actions  
Trone Leads U.S. Commission on Combating Synthetic Opioid Trafficking, Release Final Report Outlining Its Key Findings and Proposals
As Co-Chair of the U.S. Commission on Combatting Synthetic Opioid Trafficking, Rep. David Trone (MD-06), released the final report of the U.S. Commission on Combating Synthetic Opioid Trafficking. The final report serves as a bipartisan, strategic approach to combating the flow of synthetic opioids into the United States — with an overarching goal of reducing the number of overdose deaths from these drugs. Ending the opioid crisis and decreasing the flow of synthetic opioids into the U.S. is a personal fight for Rep. Trone in Congress, in honor of his nephew Ian who died of a fentanyl overdose in 2016. 
Castro Leads SCOTUS Amicus Brief Supporting Disabled Texas Veteran
Rep. Joaquin Castro (TX-20) led five other Members of Congress in filing an amicus brief to weigh in on Torres v. Texas, a case before the U.S. Supreme Court that threatens the civilian job rights and benefits of servicemembers and veterans under the Uniformed Services Employment and Reemployment Rights Act (USERRA) of 1994. The brief argues that ensuring returning servicemembers have access to uniform workplace remedies — no matter where they live — strengthens American war-readiness and repays our immense debt to veterans for their sacrifice in service of the United States.
Wild Demands YouTube to Remove Dangerous Videos on Safer Internet Day
In 2020, Rep. Susan Wild (PA-07) led a letter to YouTube calling for them to remove dangerous "How to Tie a Noose" videos. No action was taken, so this Tuesday on Safer Internet Day, Rep. Wild led Members in demanding that YouTube remove the videos. In Congress, Rep. Wild has been an outspoken leader on mental health and suicide prevention initiatives.
Costa Leads Letter to President Biden Urging Increased Efforts to Mitigate Wildfires
Rep. Jim Costa (CA-16) led a letter alongside 11 House colleagues from impacted districts to President Joe Biden calling for a more robust strategy to identifying and responding to wildfires. The full text of the letter can be found here. 
---
---
Next Article
Previous Article
--->