February 04, 2022
New Dem Weekly Wrap 2/4/2022
New Dem Coalition Celebrate House Passage of America COMPETES Act
ICYMI: New Democrat Coalition Calls for Swift Congressional Action on American Competitiveness Legislation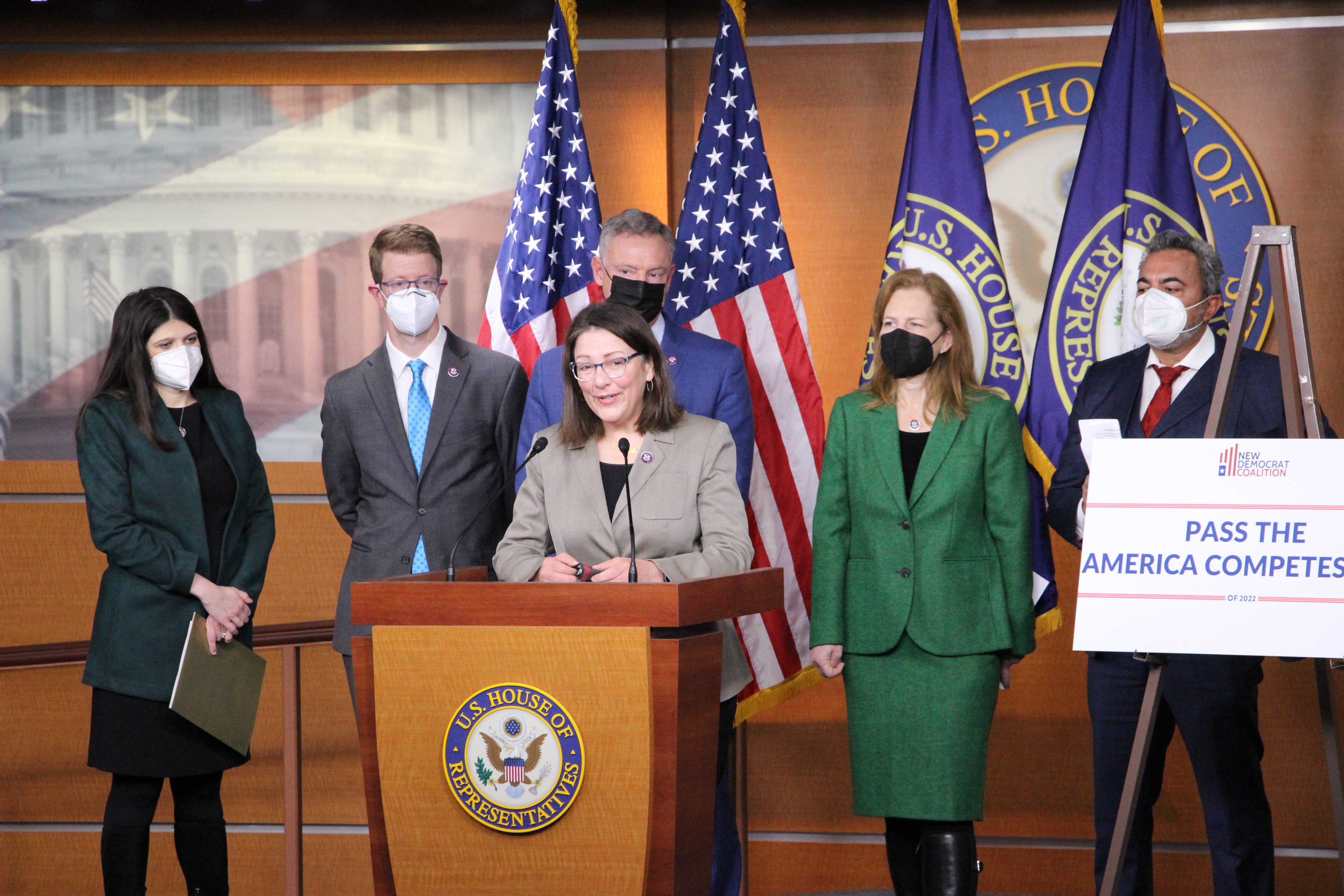 New Dem Chair DelBene Pushes for a Final Build Back Better Act with Strong Climate Provisions
More on what New Dems have been up to below.  
New Dems in the News
Op-ed: "American Competitiveness Legislation is the Key to Tackling Today's Economic Challenges, Creating Tomorrow's Opportunities": DelBene via The Hill 
NDC Chair DelBene penned an op-ed in the Hill calling for swift Congressional action on American competitiveness legislation to address the economic challenges families are facing now and create opportunities for Americans to succeed in the 21st century. 
The op-ed reads in part: "Right now, Congress can address the challenges facing families and keep the Biden Boom going by taking bipartisan action on American competitiveness legislation to secure our supply chains, cut costs, strengthen American leadership, spur innovation and create good-paying jobs that will set the U.S. up for long-term economic success." 
"We have really seen this as a golden opportunity for Congress to act to address issues that we're facing right now": DelBene via Axios
 New Dems know that passing a final America COMPETES Act will improve the livelihoods of Americans and promise a better future. This American competitiveness legislation will create jobs, cut costs, and address long-term inflation. 
"People want to see government work and expect us to help move things forward": DelBene via Associated Press
New Dems are committed to getting things done in Congress and that's exactly what we plan to do throughout 2022. We unanimously passed the Bipartisan Infrastructure Law and now transformational investments are going to update roads, bridges, and broadband in our neighborhoods. Now we're focused on a final America COMPETES Act to address higher costs and supply chain blockages.
NDC Member Rep. Luria Speaks About the January 6th Committee's Work on MSNBC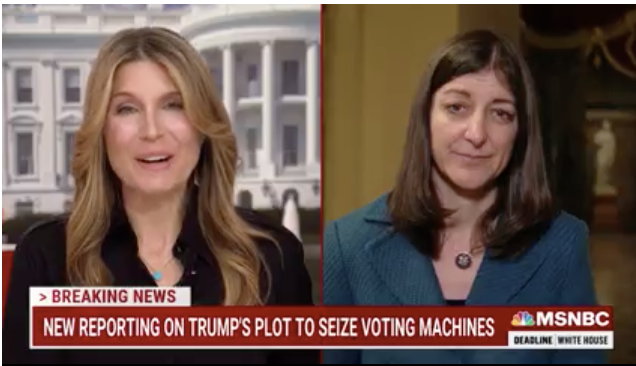 Rep. Elaine Luria (VA-02) speaks to Nicole Wallace on MSNBC about her ongoing work with the January 6thCommittee to bring accountability to the American people and protect against future acts of domestic terrorism.   
NDC HIGHLIGHTS:
Bill Action
Williams Bill to Honor John R. Lewis Passes House
Rep. Nikema Williams's (GA-05) bill, H.R. 5577, to rename Atlanta Main Post Office as the "John Lewis Post Office Building" passed the House this week. The Honorable John Lewis used to visit this main post office, and Rep. Williams' legislation is intended to pay tribute to the life and legacy of the late Congressman. 
 New Member Legislation
Lawrence Introduces Legislation to Promote Wireless EV Charging Projects
Rep. Brenda Lawrence (MI-14) introduced H.R. 6546, the Wireless Electric Vehicle (EV) Charging Grant Program Act of 2022. This legislation creates a grant program in the U.S. Department of Transportation for small-scale wireless EV charging projects. 

Fletcher Introduces Legislation to Reduce Carbon Emissions from Refineries
Rep. Lizzie Fletcher (TX-07) introduced H.R. 6562, the Carbon Limiting Emissions At Refineries (CLEAR) Act bill to support the research and development of projects that reduce the greenhouse gas emissions in the downstream energy sector. This legislation establishes a new $200 million authorization program at the Department of Energy (DOE) for demonstration projects in promising technologies, like carbon capture, advanced catalysts, energy reduction, hydrogen firing, and electrification of heat and steam generation, that will help reduce emissions at refineries. 
Trahan Co-Leads Bipartisan Legislation to Track the Strategic National Stockpile's Inventory, Combat Shortages, Modernize Health Care Supply Chain
Rep. Lori Trahan (MA-03) helped introduce H.R. 6520, the Medical and Health Stockpile Accountability Act. This bipartisan legislation will strengthen the Strategic National Stockpile and ensure the U.S. is better prepared for future crises and pandemics by combatting equipment shortages and providing near real-time tracking of medical and health supply inventories nationwide. 
Ross Introduces Legislation to End Prison Gerrymandering
Rep. Deborah Ross (NC-02) introduced H.R. 6550, the End Prison Gerrymandering Act. This legislation will help ensure equal representation for all by requiring the Census Bureau to count incarcerated people at their last place of residence rather than the prison in which they are held at the time of the Census. 
Schrier Re-Introduces Bill to Help Students Get Enough Time to Eat Lunch
Rep. Kim Schrier, M.D. (WA-08) reintroduced H.R. 6526, the Healthy Meal Time Act. This legislation will provide schools with best practices for scheduling lunch and recess to ensure that students have enough time to eat a balanced, nutritious meal and reduce waste. 
Manning Introduces Resolution to Honor Greensboro Four
NDC Leadership Member Kathy Manning (NC-06) introduced a resolution to honor the leaders of the Greensboro Four Sit-In of 1960 and recognize this important moment in the American Civil Rights Movement. The resolution celebrates both the Greensboro Four, but also the many North Carolina A&T University Students who participated in the sit-in movement, and encourages all States to includes this historical account in their educational curriculum. 
NDC Member Actions  
25 New Dems Urge for Expedited Passage of America COMPETES Act
Larsen Holds the Most Infrastructure Events of Any House Member
Rep. Rick Larsen (WA-02), who is chair of the Transportation and Infrastructure Committee's Subcommittee on Aviation in the 117th Congress, has held the most infrastructure events of any Member of the House of Representatives. Since November, Rep. Larsen has held or participated in more than 70 events celebrating the Bipartisan Infrastructure Law and highlighting the important investments coming to Americans. 
Davids Welcomes Secretary Buttigieg to Kansas
NDC Vice Chair Sharice Davids (KS-03) hosted U.S. Secretary of Transportation Pete Buttigieg in Kansas City, Kansas last week to discuss Bipartisan Infrastructure Law's investments in the community. Davids and Buttigieg met with local leaders from labor, business, transit, and climate groups before taking a ride on a KCATA electric bus. 
Kuster Joins Lebanon City Officials to Announce Critical Broadband Project and Discuss Support for Community Services
Rep. Annie Kuster (NH-02), a member of the House Rural Broadband Task Force, met with Lebanon City officials to announce a new critical broadband project in the city. The new broadband project, which utilizes $60,000 in American Rescue Plan Funds, will extend broadband to the remaining 142 homes in the City that do not have internet service. 
Strickland, Lawrence, and Escobar Call On Defense Department to Prioritize Access to Contraception for Servicemembers and Military Families By Waiving Copays
Reps. Marilyn Strickland (WA-10), Brenda L. Lawrence (MI-14), and Veronica Escobar (TX-16) led a letter to Defense Secretary Lloyd Austin asking him to designate health care visits relating to screening, counseling, insertion, removal, or maintenance of FDA-approved contraceptive devices as "preventive services" and waive their applicable TRICARE copays. 
---
---
Next Article
Previous Article
--->