April 08, 2022
New Dem Weekly Wrap 4/8/2022
New Dem Chair Celebrates 19 New Dems on Bipartisan Innovation Bill Conference Committee
New Democrat Coalition Chair Suzan DelBene (WA-01) released a statement following inclusion of many New Dems on the Conference Committee for the America COMPETES Act.
New Dem Reps. Ami Bera (CA-07), Haley Stevens (MI-11), Bill Foster (IL-11), Lisa Blunt Rochester (DE-AL), Darren Soto (FL-09), Gregory Meeks (NY-05), Joaquin Castro (TX-20), Chrissy Houlahan (PA-06), Sara Jacobs (CA-53), Suzan DelBene (WA-01), David Scott, (GA-13), Donald Norcross (NJ-01), Veronica Escobar (TX-16), Joe Morelle (NY-25), Val Demings (FL-10), Donald McEachin (VA-04), Sharice Davids (KS-03), Tom Malinowski (NJ-07), and Chris Pappas (NH-01) were named to the conference committee.
The statement reads in part, "New Dems were the first movers on this legislation, shaping it and advancing it through key committees. We look forward to continuing that work to get this legislation through Congress and to President Biden's desk as soon as possible."
Read the full statement here.
In Response to Russia's War in Ukraine, New Democrat Coalition Leaders Call for Swift Negotiations on a Bipartisan Innovation Bill to Strengthen American Leadership and Global Supply Chains
This week, New Dem Leadership Members sent a letter to congressional leadership calling for swift action on a bipartisan innovation bill in light of current challenges at home and abroad.
The letter reads in part, "It is time for us to act and deliver on our shared priorities of lowering inflation, strengthening supply chains, creating U.S. jobs, and promoting American values on the global stage. President Biden has reclaimed America's role as a global leader in defense of democracy and human rights as the west responds to Russia's assault on Ukraine. Let's finish the job on bipartisan innovation legislation so America can lead on all fronts and work with our allies to counter the influence of adversarial powers."
Read the full letter here.
ICYMI Press Call Transcript: New Dem Leaders Discuss White House Meeting and the Coalition's Legislative Priorities
New Dem Chair Suzan DelBene (WA-01) and Vice Chairs Scott Peters (CA-52), Annie Kuster (NH-02), Ami Bera (CA-07), and Sharice Davids (KS-03) held a press call to discuss their meeting from last week with President Biden at the White House, and the Coalition's agenda for the rest of the 117th Congress.
Chair DelBene said, "Voters have entrusted us with the majority in both the House and the Senate, and the Presidency. And we feel that it's very, very important that, first and foremost, we are focused on enacting long term durable policies through legislative action…That's why for the rest of this Congress we need to focus all of our energy into passing legislation that will positively impact our communities."
Read the full remarks from the Leadership members here.
More on what New Dems have been up to below.
New Dems in the News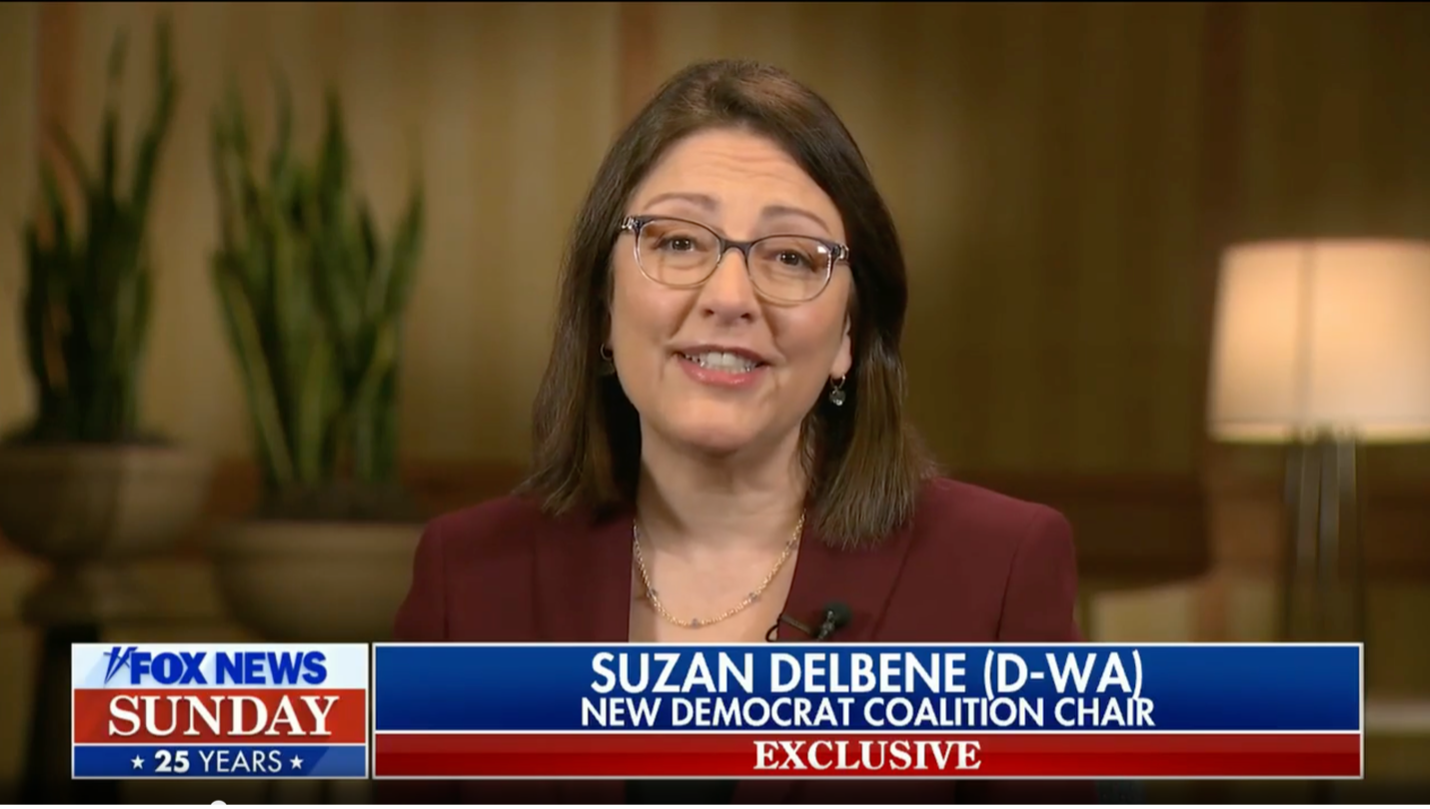 ICYMI: Chair DelBene Joins Fox News Sunday to Discuss New Dem Meeting with President Biden and the Coalition's Legislative Priorities
Chair DelBene appeared on Fox News Sunday to speak with Martha MacCallum about the New Democrat Coalition's meeting with President Biden at the White House and the Coalition's agenda for the rest of the 117th Congress.
"We want to tackle the issues that families are facing today, and that's why it's important that we move forward on competition legislation, address supply chains, and not just look at things for the short term, but really take a long-term view." Watch the full video here.
ICYMI: CNBC Op-ed: Congress Must Pass an Innovation Bill to Fight Inflation, Boost National Security
NDC Future of Work and Capitalism Task Force Co-Chair Mikie Sherrill (NJ-11) and former NDC Chair Jim Himes (CT-04) penned an op-ed in CNBC calling for Congress to pass a bipartisan innovation bill, particularly in light of the Russian war in Ukraine and rising consumer prices.
They wrote, "By quickly passing and enacting the bipartisan innovation bill, we will set America up to lead the 21st century innovation economy with democratic values, create long-term supply chain stability in an uncertain world, and counter the influence of tyrants and autocrats around the world. This is America's moment to lead. We can't let it pass." Read the full op-ed here.
NDC HIGHLIGHTS:
Bill Action
House Passes Aguilar's REPORT Act
The House passed Rep. Pete Aguilar's (CA-31) H.R. 1540, the Reporting Efficiently to Proper Officials in Response to Terrorism (REPORT) Act passed the House of Representative unanimously. This NDC-endorsed legislation was introduced in the wake of the deadly attack on the US Capitol on January 6th to ensure lawmakers and law enforcement agencies are better prepared to prevent, detect, and respond to future incidents of domestic terrorism.
House Passes Connolly's Resolution in Support of Establishing a NATO Center for Democratic Resilience
The House passed Rep. Gerry Connolly's (VA-11) H.Res. 831, a resolution in support of the establishment of a Center for Democratic Resilience within NATO to help member, partner, and aspirant states strengthen their democratic institutions and to preserve democracy around the globe.
The House passed Rep. Gregory Meeks' (NY-05) H.R. 5497 Burma Unified Through Rigorous Military Accountability Act of 2021 (BURMA). This legislation reaffirms the United States' leadership to protect human right and democratic values and ensure accountability by authorizing sanctions, support to civil society, and a new position at the State Department.
New Member Legislation
Rep. Davids Introduces Bipartisan Mental Health Program Package
Rep. Sharice Davids (KS-03) introduced H.R. 7237 the REACHING Improved Mental Health Outcomes for Patients Act of 2022 to renew federal mental health grant programs for health centers, schools, and law enforcement. The legislation would reauthorize 8 programs through the Substance Abuse and Mental Health Services Administration (SAMHSA) that are proven to be effective, including grants to help communities improve suicide prevention strategies, integrate mental health into primary care, and train school personnel and first responders to identify symptoms of mental health disorders.
Castro Introduces Legislation to Address Gap in College Completion for Hispanic Students
Rep. Joaquin Castro (TX-20) introduced H.R. 7454, the HERE Act, legislation that would address the enduring gap in college attendance and completion rates for Hispanic students. This bill would create a new grant program to support partnerships and collaboration between Hispanic-Serving Institutions and school districts with high Hispanic enrollment.
McBath Introduces Legislation to Help Americans Save for Retirement
Rep. Lucy McBath (GA-06) introduced H.R. 7310, the Protecting America's Retirement Security Act, to help Americans save for retirement and safeguard their investments. This legislation will help Americans plan and save for retirement by improving protections for retirement plans, increasing awareness of potential fees, and supporting financial literacy with measures that will benefit workers, families, and employers.
Costa Introduces Bipartisan Legislation to Protect Victims of Child Abuse
Rep. Jim Costa (CA-16), who is Chairman and co-founder of the Congressional Crime Survivors and Justice Caucus, introduced H.R. 7419, a bipartisan bill to reauthorize the Victims of Child Abuse Act (VOCAA). The legislation provides funding to Children's Advocacy Centers to help victims of child abuse and strengthens law enforcement response to hold perpetrators accountable.
NDC Member Actions
Bustos Urges President to Prioritize Biofuels to Reduce Gas Prices
Rep. Cheri Bustos (IL-17) sent a letter to President Joe Biden urging him to prioritize homegrown, renewable biofuels as a replacement for Russian energy sources. Congress banned the importation of Russian oil and natural gas into the U.S., and the letter argues that a renewed emphasis on renewable fuels would lower fuel prices for American consumers by more than $12 billion annually, generate substantial economic growth in rural communities and significantly decrease American dependence on foreign oil producers like Russia.
Bustos Pens Op-ed in The Hill on the Judiciary Accountability Act
Rep. Cheri Bustos (IL-17) penned an op-ed in The Hill urging support for the Judiciary Accountability Act, which would provide protections against harassment and discrimination for employees of the federal judiciary. The JAA would build on the protections offered to victims of sexual assault and harassment in the workplace under Rep. Bustos' bill to End Forced Arbitration for Sexual Assault and Harassment – which was signed into law last month – by extending these same rights to federal judiciary employees.
---
---
Next Article
Previous Article
--->