April 29, 2022
New Dem Weekly Wrap 4/29/2022
New Democrat Coalition Endorses Slate of 22 Bipartisan Health Care Bills to Address Mental Health and Substance Use Disorders
The New Democrat Coalition (NDC), led by NDC Health Care Task Force Co-Chairs Kim Schrier (WA-08) and Terri Sewell (AL-07) endorsed a slate of 22 bipartisan health care bills aimed at addressing mental health and substance use disorders.
These bills answer President Biden's call at the State of the Union for action on a Unity Agenda. They tackle the rise in synthetic opioids, increase access to health care services, create more comprehensive mental and behavioral health services, prioritize kids' mental health, and more.
Find the full list of endorsed bills and read more here.
NDC Chair Statement on the Passing of Former Congressman Brad Ashford
Following the passing of the Honorable Brad Ashford, NDC Chair Suzan DelBene (WA-01) released the following statement:
"The New Democrat Coalition mourns the loss of former Congressman Brad Ashford, a beloved member of our Coalition and a powerful public servant who always put his community first. Congressman Ashford will be remembered for his tireless work to break through the gridlock and bridge the partisan divide in Congress to deliver for Nebraskans and Americans across the country. The entire New Democrat Coalition offers our condolences to the Ashford family, including his wife Ann and his children John, Ellie, and Tom."
More on what New Dems have been up to below.
"We're here right now, we're ready to legislate right now. Let's get things done right now": Chair DelBene via BGOV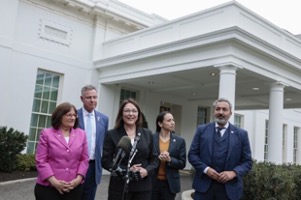 New Dems are taking action to address urgent issues facing Americans and deliver on the President's Unity Agenda with the slate of bipartisan health care bills we endorsed this week. On the slate, Majority Leader Steny Hoyer told BGOV, "I applaud the efforts of the New Democrat Coalition Health Care Task Force to advance a number of bills that take action on the opioid crisis and make important improvements in mental health support and treatment. Read the full article here.
NDC HIGHLIGHTS:
Bill Action
House Passes Carter's Bill to Uplift Small Businesses
This week, the House passed Rep. Troy Carter's (LA-02) bill, H.R. 128 the Small Business Advocacy Improvement Act. This legislation ensures that the U.S. Small Business Administration Office of Advocacy has the authority to examine international economic data and represent small business interests in international discussions, providing an advocate for small business owners.
House Passes Davids' Bill to Support Women Entrepreneurs
This week, the House passed NDC Vice Chair Sharice Davids' (KS-03) bipartisan bill, H.R. 6441 the Women's Business Centers Improvement Act. This legislation would increase access to resources and opportunities for female entrepreneurs in Kansas and across the country through the Women's Business Center, which was created to help women entrepreneurs succeed and now serves over 88,000 business owners annually with locations in every state and Puerto Rico.
House Passes Costa's Bill to Support Conservation Efforts
This week, the House passed Rep. Jim Costa's?(CA-16)?bipartisan bill,?H.R. 6023, the Multinational Species Conservation Funds Semipostal Stamp Reauthorization Act.?This legislation requires the United States Postal Service (USPS) to sell approximately 45 million Save?Vanishing Species Stamps left in stock to raise money for wildlife conservation.
New Member Legislation
Casten Introduces Legislation to Protect K-12 Students from Sexual Harassment and Assault
Rep. Sean Casten (IL-06) introduced H.R. 7620, the Stop Sexual Harassment in K-12 Act, which will combat sexual harassment and assault occurring in our nation's K-12 schools by creating clear standards and related funding streams for schools to uphold their students' Title IX rights.

Horsford Introduces Legislation to Combat High Gas Prices
Rep. Steven Horsford (NV-04) introduced H.R. 7295, the Supporting Americans from Vehicle Energy Costs (SAVE) Act that would provide a $300 monthly tax credit for three months for each registered private vehicle to help offset the costs consumers are paying at the pump. The payments would be capped at individuals earning no more than $200,000 or joint filers earning no more than $400,000.
Brown Introduces Legislation to Quadruple the Educators' Tax Deduction
Rep. Anthony G. Brown (MD-04) introduced H.R. 7395, the Educators Expense Deduction Modernization Act. This legislation will quadruple the amount educators are able to deduct from their taxes for out-of-pocket classroom expenses. The current deduction is $250, and this legislation would increase it to $1,000 and continue to index it to inflation.

Strickland Introduces Ensuring Every Servicemember Has A Home Package
Rep. Marilyn Strickland (WA-10) introduced a package of legislative bills, to improve access and affordability for our men and women in uniform.?This package, Ensuring Every Servicemember Has a Home, contains four separate but connected bills– H.R. 7561 the BAH Restoration Act, H.R. 7562 the BAH Calculation Improvement Act, H.R. 7563 the Increasing Homeownership and for Servicemembers Act, and H.R. 7564 the Building More Housing for Servicemembers Act. These bills seek to ensure that our servicemembers and their families have access to affordable housing.


NDC Member Actions
Strickland Calls on Defense Department to Address Access to Housing at Joint Base Lewis-McChord
Rep. Marilyn Strickland (WA-10) led a letter to Defense Department officials calling on them to address the housing supply and affordability crisis at Joint Base Lewis-McChord (JBLM). JBLM is one of the largest military installation on the West Coast, employing thousands of our nation's servicemembers. As JBLM continues to grow, there is a desperate need for additional housing units on and off base.

Fletcher Leads Bipartisan Letter on Pipeline Infrastructure Approval Process
Rep. Lizzie Fletcher (TX-07) led a bipartisan letter to the Federal Energy Regulatory Commission (FERC) encouraging the agency to make a bipartisan decision to update its natural gas pipeline review process, in order to ensure stability in building out our country's energy infrastructure. Updates to the natural gas pipeline review process would allow for a more seamless process of natural gas pipeline applications, helping grow and strengthen the midstream energy sector while ensuring energy independence and security.
DelBene and Larsen Discuss the Impact of the Infrastructure Investment and Jobs Act
NDC Chair Suzan DelBene (WA-01) and Rep. Rick Larsen (WA-02) joined the Economic Alliance Snohomish County to discuss how the Infrastructure Investment and Jobs Act will impact the country with transformational infrastructure projects and new jobs.
Carter Pens a Bipartisan Op-Ed on the Unfair Flood Insurance System for Louisiana Homeowners
Rep. Troy Carter (LA-02) penned an op-ed with Rep. Steve Scalise (LA-01) outlining the unfair nature of FEMA's new flood insurance rate system, which they argue makes flood insurance unaffordable and increases the number of uninsured properties. The op-ed reads in part, "We are committed to working in Congress to pursue a long-term reform and reauthorization of NFIP that keeps flood insurance affordable for policyholders regardless of geographic location." Read the full op-ed here.
Lawson Celebrates and Delivers Crucial Funding for His District
Rep. Al Lawson (FL-05) held Community Project Check Presentations in his congressional district across North Florida during the district work period. He secured more than $14.8 million in funding to assist with some of the most pressing needs in the community. Some of the local projects include funds for a disaster shelter, to increase access to behavioral health programs, to expand services for veterans and their families, and more.
---
---
Next Article
Previous Article
--->