May 13, 2022
New Dem Weekly Wrap 5/13/2022
New Dem Chair DelBene and Vice Chair Peters Call for Swift Negotiations to Pass Legislation to Tackle Inflation
New Democrat Coalition (NDC) Chair Suzan DelBene (WA-01) and Vice Chair for Policy Scott Peters (CA-52) released statements following the conclusion of the first meeting of the Bipartisan Innovation Act conference committee on the work that New Dems have done to address inflation. 
Chair DelBene said, "Since last year, New Dems have led the charge to pass a Bipartisan Innovation Act that strengthens U.S. supply chains, creates jobs, invests in scientific research, and ensures America leads the global 21st century innovation economy. I'm proud to serve on the conference committee along with 18 other New Dems, and our Members are ready to swiftly negotiate a strong final bill."  
Vice Chair Peters said, "Global inflation and rising prices have hit Americans hard. That's why New Dems formed a first of its kind Inflation Working Group to develop and advance policy solutions that lower costs for American families, strengthen supply chains, and fight inflationary pressures over the short- and long-term...But there is more we need to do. As key members of the conference committee, New Dems will work to swiftly negotiate a strong Bipartisan Innovation Act to take further action"  
Read the full statements here.
ICYMI: New Dem Chair DelBene Delivers Opening Statement at First Meeting of Bipartisan Innovation Act Conference Committee
On Thursday, Chair DelBene delivered her opening statement at the first meeting of the conference committee on the Bipartisan Innovation Act. This legislation is a top priority for New Dems and will be essential to tackling long-term inflation. 
She stated, "We have a unique opportunity to work together, not just as Democrats and Republicans, but as one Congress, to deliver for workers, for families, and for the American economy.  
As the Chair of the 98-member New Democrat Coalition, I'm also very laser-focused on reaching an agreement that invests in American jobs, growth, and resilient supply chains that will address the real concerns that Americans have about inflation and our economic future…
"The American people want governance to work again and that's our charge in this committee."
New Dems Urge President to Support Rural Communities By Lowering Barriers to Federal Resources and Ensuring Equitable Implementation of the Bipartisan Infrastructure Law
The NDC led by Rural Reinvestment Task Force Co-Chairs Cheri Bustos (IL-17) and Cindy Axne (IA-03) and NDC Chair Emeritus Derek Kilmer (WA-06) wrote to President Joe Biden with recommendations to ensure rural America can access the resources, opportunities, and economic benefits of federal investments through the Bipartisan Infrastructure Law. 
The letter reads in part, "New Dems recognize the unique challenges and barriers to accessing federal resources faced by rural communities, which is why we established the Rural Reinvestment Task Force last year. We write not only to shed light on issues in our communities and in rural areas across the nation, but to offer solutions the administration can take to lower barriers to federal resources and better coordinate infrastructure implementation in the rural districts we represent."
Read statements from Bustos, Axne, and Kilmer and the full letter to the President here.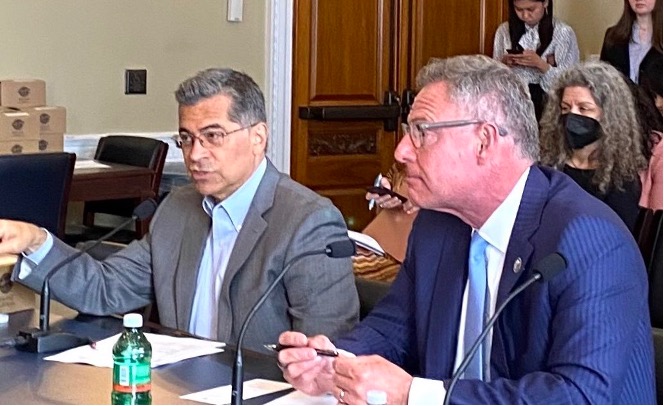 New Dems Meet with Secretary Becerra and Larry Summers
This week New Dems met with Health and Human Services Secretary Xavier Becerra at our weekly Member Meeting. Secretary Becerra spoke with members about the work that Health and Human Services is doing, especially on protecting reproductive care, expanding access to quality and affordable health care, addressing the mental health crisis, and responding to the COVID-19 pandemic. 
The New Dem Inflation Working Group also met with Larry Summers, President Emeritus of Harvard University and Former Treasury Secretary, to discuss solutions for easing inflation and lower costs for Americans. 
New Democrat Coalition Chair Statement on Draft Supreme Court Decision to Overturn Roe v. Wade
Last week following the reported draft Supreme Court decision to overturn Roe v. Wade, Chair DelBene released a statement reiterating New Dems commitment to upholding the landmark decision and urging the Senate to pass the House-passed Women's Health Protection Act. 
The statement reads in part, "New Dems remain more committed than ever to protecting the freedom of every woman to make decisions about her own body and her own future. If this draft decision were to be released by the Court, American women everywhere would lose this critical constitutional right."
More on what New Dems have been up to below.  
NDC HIGHLIGHTS:

 
Bill Action 
House Passes Carbajal's Federal Firefighters Fairness Act 
Rep. Salud Carbajal's (CA-24) Federal Firefighters Fairness Act passed the House this week. The bipartisan legislation would ensure federal firefighters receive the same access to job-related disability and retirement benefits as state, county, and municipal firefighters. 
House Passes Sherrill's Legislation to Take Proactive Steps to Address and Prevent Flooding
Rep. Mikie Sherill's (NJ-11) Providing Research and Estimates of Changes In Precipitation (PRECIP) Act, passed the House this week. The PRECIP Act will update out-of-date precipitation data by providing the National Oceanic and Atmospheric Administration (NOAA) with consistent funding to collect data and conduct studies.
New Member Legislation
Trone Leads House Resolution to Designate May 10 as National Fentanyl Awareness Day Rep. David Trone (MD-06) led a bipartisan group of colleagues in introducing a H. Res. 1102, a resolution designating May 10, 2022, as National Fentanyl Awareness Day. Overdose deaths have skyrocketed in recent years due to an influx of fentanyl, reaching an all-time high in 2021, and increasing awareness of fentanyl and its deadly impacts can save lives.

Sewell Introduces Legislation to Advance Health Equity and Access to Care 
Rep. Terri Sewell (AL-07) introduced H.R. 7755, the John Lewis Equity in Medicare and Medicaid Treatment (EMMT) Act. This bicameral legislation would advance health equity and access to care for minority communities by requiring the Center for Medicare and Medicaid Innovation to work with experts to consider health disparities when developing payment models.  
Phillips Introduces Bill to Combat Increasing Package Theft
Rep. Dean Philips (MN-03) introduced H.R. 6852, the Porch Pirates Act to combat increasing occurrences of package theft. The bill would apply the same federal penalties that apply to the theft of United States Postal Service (USPS) mail to the theft of commercial packages from private carriers such as Amazon, FedEx, and UPS.
Crist and Suozzi Introduce Bill to Help Seniors and Increase Accessibility
Reps. Charlie Crist (FL-13) and Tom Suozzi (NY-03) introduced the Home Modification for Accessibility Act to help seniors stay in their homes longer. This legislation provides tax incentives for home modifications so seniors and those with disabilities can more easily and safely continue living in their own homes. 
NDC Member Actions 
Axne via The Indianola Independent: "My rural prosperity agenda — making sure rural Iowans get their fair share
NDC Rural Reinvestment Task Force Co-Chair Cindy Axne (IA-03) penned an op-ed in the Indianola Independent-Advocate to announce her Rural Prosperity Agenda and speak about her continuing work to make sure the concerns of Iowans and rural communities are heard in Washington. 
The op-ed reads in part, "There's no question that rural Iowans have felt left behind by the federal government. It's time to say enough is enough and to help make sure no Iowan is left behind – no matter where they live. That's why this week, I was proud to join community leaders in Perry to announce my Rural Prosperity Agenda – a package of bipartisan bills that I will be pushing Congress to pass to ensure that Iowans receive the investments they need to prosper." Read the full op-ed here.  
Strickland and Speaker of the House Nancy Pelosi Highlight the Infrastructure Investment and Jobs Act
Rep. Marilyn Strickland (WA-10) hosted Speaker of the U.S. House of Representatives Nancy Pelosi at the Chambers Creek watershed, to discuss how the Infrastructure Investment and Jobs Act can help address the South Sound's infrastructure needs. This was Speaker Pelosi's first visit to Washington's South Sound. 
---
---
Next Article
Previous Article
--->