June 09, 2023
New Dem Weekly Wrap 6/9/2023
New Dems in the News
New Dem Vice Chair for Communications Brad Schneider talks to MSNBC about Bipartisan Budget Agreement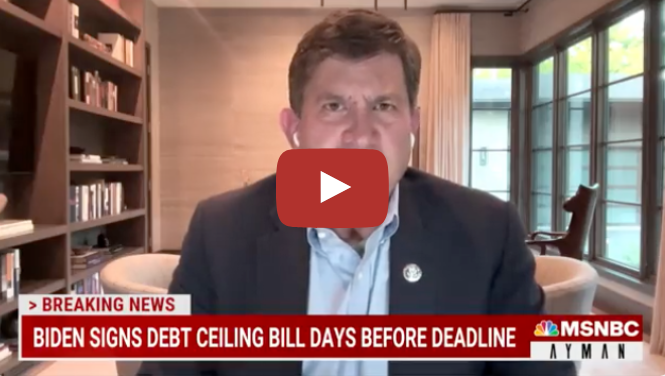 New Dem Vice Chair for Communications Brad Schneider (IL-10) talked to Ayman Mohyeldin on MSNBC to discuss his vote to pass the Bipartisan Budget Agreement as well as the road ahead to build an economy that leaves no Americans behind.
Rep. Troy Carter on SCOTUS Ruling in Allen v. Milligan
Rep. Troy Carter (LA-02) appeared on FOX 8 WVUE-TV to commend the Supreme Court for its 5-4 decision in Allen v. Milligan, which ruled that the Alabama Legislature likely violated the Voting Rights Act of 1965 by drawing congressional districts that diluted Black votes in the state. Carter discussed how this ruling is a win for voting rights and how it serves as a positive indication of how SCOTUS will rule on a similar case about Louisiana's congressional map.
New Dems in Action
New Dems Meet with The New England Council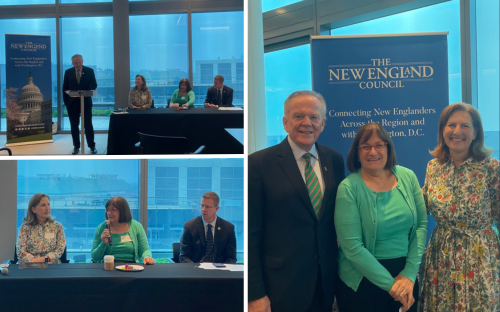 New Dem Chair Annie Kuster (NH-02), Vice Chair for Policy Derek Kilmer (WA-06), and Farm Bill Task Force Chair Kim Schrier (WA-08) met with leaders of The New England Council to discuss our Coalition's work in the 118th Congress, from advancing America's standing as a leader in the global marketplace to shaping the Farm Bill and enacting permitting reform to accelerate clean energy deployment.
New Dem Trade Task Force Holds Stakeholder Roundtable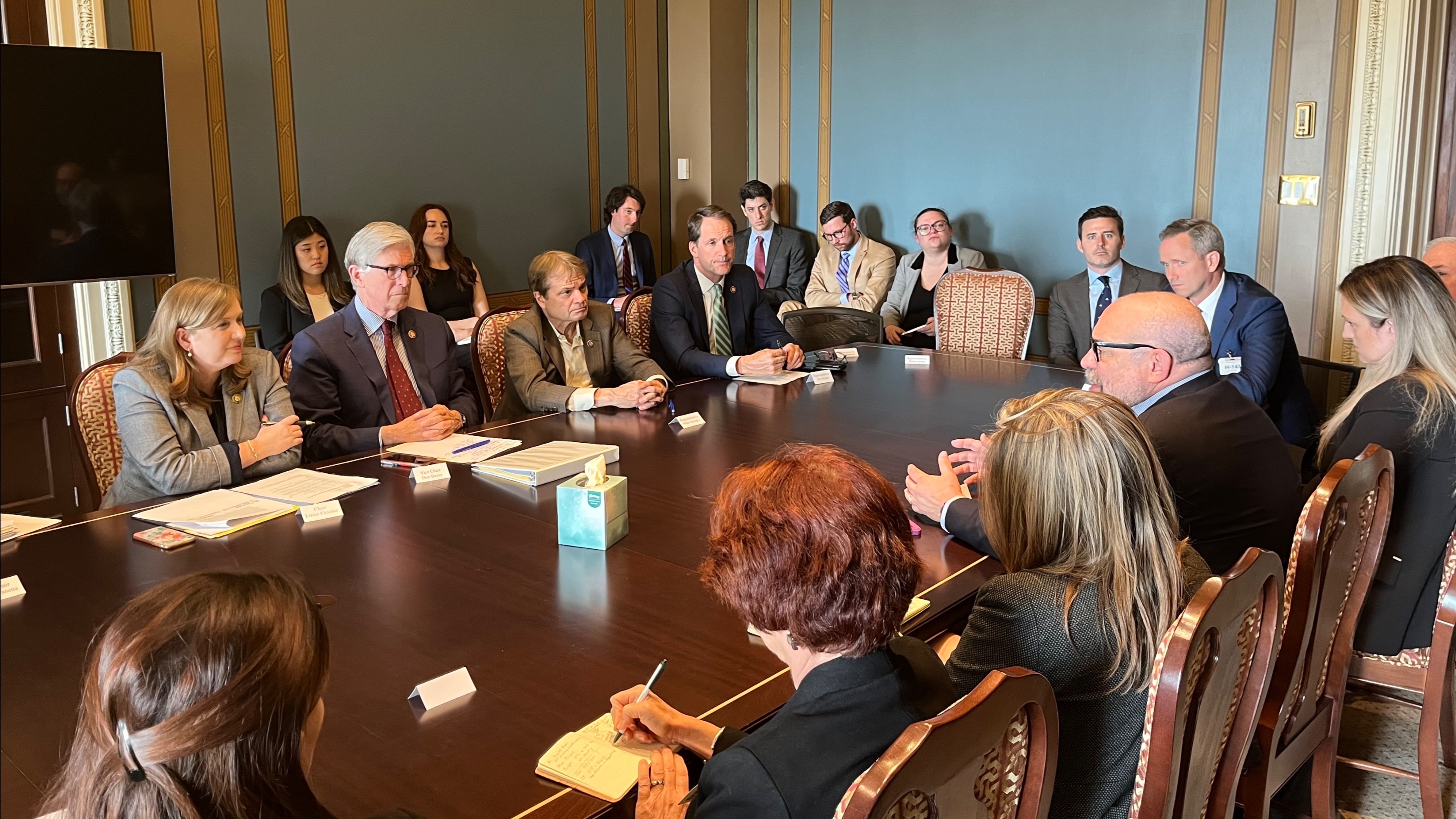 This week, Members of the New Dem Trade Task Force held a stakeholder roundtable to discuss ongoing challenges and emerging opportunities in trade. Members engaged with stakeholders in a robust conversation about strengthening the USMCA, the potential of trade to empower American small businesses and minority-owned businesses, and bolstering America's standing in the global marketplace. This meeting is part of our Trade Task Force's ongoing efforts to advance actionable, targeted trade policies this Congress.
Press Release
New Dem Climate Change & Clean Energy Task Force is Encouraged by the Inclusion of New Dem Permitting Priorities in the Bipartisan Budget Agreement, Calls for Additional Permitting and Transmission Policy Reform
New Democrat Coalition Climate Change and Clean Energy Task Force, led by Chair Scott Peters (CA-50) and Vice Chairs Sean Casten (IL-06), Eric Sorensen (IL-17), and Susan Wild (PA-07), released a statement about the permitting reform provisions in the bipartisan Fiscal Responsibility Act, which President Biden signed into law last weekend.
Member Highlights
Rep. Lucy McBath (GA-07) secured $888,000 in grant funding through the Bipartisan Infrastructure Law to conduct a study to examine the feasibility of eliminating unsafe or dangerous railroad crossings in her district.
Rep. Hillary Scholten (MI-03) joined fellow House Democrats for a roundtable discussion about the state of LGBTQI+ rights in the United States. 
Rep. Adam Smith (WA-09) held a town hall following passage of the the President's Bipartisan Budget Agreement where he broke down the national budget, answered questions about government spending and revenue, and outlined his vision of what the U.S. fiscal policy should be going forward. 
Member Legislation
Brownley Introduces Bills to Make Homeownership More Affordable for American Families
Rep. Julia Brownley (CA-26) introduced two bills to make homeownership a more affordable reality for hard working Americans. H.R. 3890, the Mortgage Debt Forgiveness Act, will permanently extend the provision that allows taxpayers to exclude income from the discharge of debt on their principal residence. H.R. 3891, the Mortgage Insurance Tax Deduction Act, will make permanent the deduction for mortgage insurance premiums. This provision of the federal tax code makes it more affordable for working families to purchase a home when they do not have the necessary 20 percent down payment.
Carson. Schrier Introduce Bipartisan Legislation to Strengthen U.S. Response to Public Health Emergencies
Reps. André Carson (IN-07) and Kim Schrier (WA-08) introduced H.R. 3795, the Bipartisan Diagnostics Testing Preparedness Plan Act. This bipartisan legislation will require the Department of Health and Human Services to develop a diagnostics plan to be used during public health emergencies.
Davids, Sorensen Introduce Bill Supporting LGBTQI+ Youth Mental Health
Reps. Sharice Davids (KS-03) and Eric Sorensen (IL-17) introduced H.R. 3850, the Pride in Mental Health Act, to increase mental health support for LGBTQI+ youth by developing mental health resources, training for caregivers, school bullying prevention guidelines, and more. 
Davis Introduces Bipartisan Legislation to Deliver Cybersecurity for Rural America
Rep. Don Davis (NC-01) introduced H.R. 3809, the Cybersecurity for Rural Water Systems Act of 2023. The bipartisan legislation will expand the successful rural water circuit rider program to include cybersecurity technical assistance and authorize funding to hire a cybersecurity circuit rider for all 50 states. These experts will provide critical services to ensure rural water systems are secure from cyber threats, assist small water utilities in building action plans to protect and prevent cyber attacks and develop and report on cybersecurity for rural water systems across the United States.
Larsen Introduces Bipartisan FAA Reauthorization Legislation
Rep. Rick Larsen (WA-02) introduced the Securing Growth and Robust Leadership in American Aviation Act to reauthorize the Federal Aviation Administration (FAA). The legislation maintains American leadership in aviation safety and aerospace innovation, strengthens and diversifies the U.S. aviation workforce, makes groundbreaking investments in sustainability and resiliency, and improves consumer protections and accessibility.
Lee, Trahan Introduce Bipartisan Legislation to Proactively Support Efforts to Address Current and Future Public Health Threats 
Reps. Susie Lee (NV-03) and Lori Trahan (MA-03) introduced H.R. 3832, the Disease X Act. This bipartisan legislation proactively supports the research and development of medical countermeasures (MCM) to ensure the United States is prepared to address current and future public health threats.
Tweet of the Week
---
---
Next Article
Previous Article
--->