October 06, 2021
New Democrat Coalition Weekly Wrap 10/6/2021
Last week, New Democrat Coalition (NDC) Members voted to extend government funding and address the debt ceiling, and President Biden signed into law the continuing resolution allowing government to continue working for the American people. New Dems look forward to working with the administration and leaders in the House and Senate to reach a resolution on the debt ceiling.
All eyes are on pending infrastructure legislation and the Build Back Better Agenda. New Dems are fully committed to advancing the Build Back Better Agenda to create jobs and make transformational investments in the future of our nation's infrastructure, economy, and families. New Dem Leadership Members met with Speaker Pelosi last week on the path forward for the Infrastructure Investment and Jobs Act and the Build Back Better Act. This week, New Dem Members continue to have conversations with leadership, the administration, and President Biden on the path forward for both priorities. In the reconciliation bill, New Dems are focused on doing a few things well for longer that will have an immediate impact on people's lives. American workers, families, communities, and businesses need certainty, and short-term cliffs put critical programs and the support people depend on at risk.
This week, trade policy leaders of the New Democrat Coalition sent a letter to Secretary of Commerce Gina Raimondo and U.S. Trade Representative Katherine Tai urging them to end the use of harmful Section 232 tariffs on U.S. allies and close trading partners.
As the Coalition urges for Congress to go big on climate in reconciliation, the NDC endorsed an additional slate of climate change bills to reduce greenhouse gas emissions, create clean energy jobs, improve climate resilience, and position the U.S. to be a global leader in the climate-forward economy.
More on what New Dems have been up to below.?
Coalition Highlights
NDC Endorses Second Slate of Bills to Combat Climate Change
The New Democrat Coalition endorsed a slate of 15 bills to address the existential threat of climate change, transition to a cleaner economy, and move towards net-zero emissions by no later than 2050. This is the second slate of climate change the Coalition has endorsed in the 117th Congress and comes as the NDC pushes Congress to go big on climate in the Build Back Better legislative agenda by leveraging every tool available to reduce greenhouse gas emissions.
NDC Vice Chair for Policy Scott Peters (CA-52) said, "Our coalition is dedicated to advancing robust climate solutions that also pave the way towards a more sustainable, forward-thinking economy...Each of these bills takes the significant, urgent action needed to achieve net-zero emissions by 2050 and effectively confront the climate crisis."
New Dem Trade Policy Leaders Send Letter to Secretary of Commerce and USTR to End Harmful Section 232 Tariffs on U.S. Allies and Trading Partners
NDC Trade Task Force Co-Chairs Ron Kind (WI-03) and Lizzie Fletcher (TX-07), NDC Chair Suzan DelBene and NDC Vice Chair for Policy Scott Peters sent a letter to Secretary Raimondo and Ambassador Tai, urging them to end the usage of Section 232 tariffs on close trading allies of the United States. Section 232 tariffs have been ineffective in addressing the global overcapacity challenges and have also hurt American workers, manufacturers, and producers. The NDC urges the Administration to find a stronger, more successful strategy to address the overcapacity challenges.
Featured Video
NDC Chair DelBene on Meet the Press: "Members of Congress Need to be Clear what their Priorities are"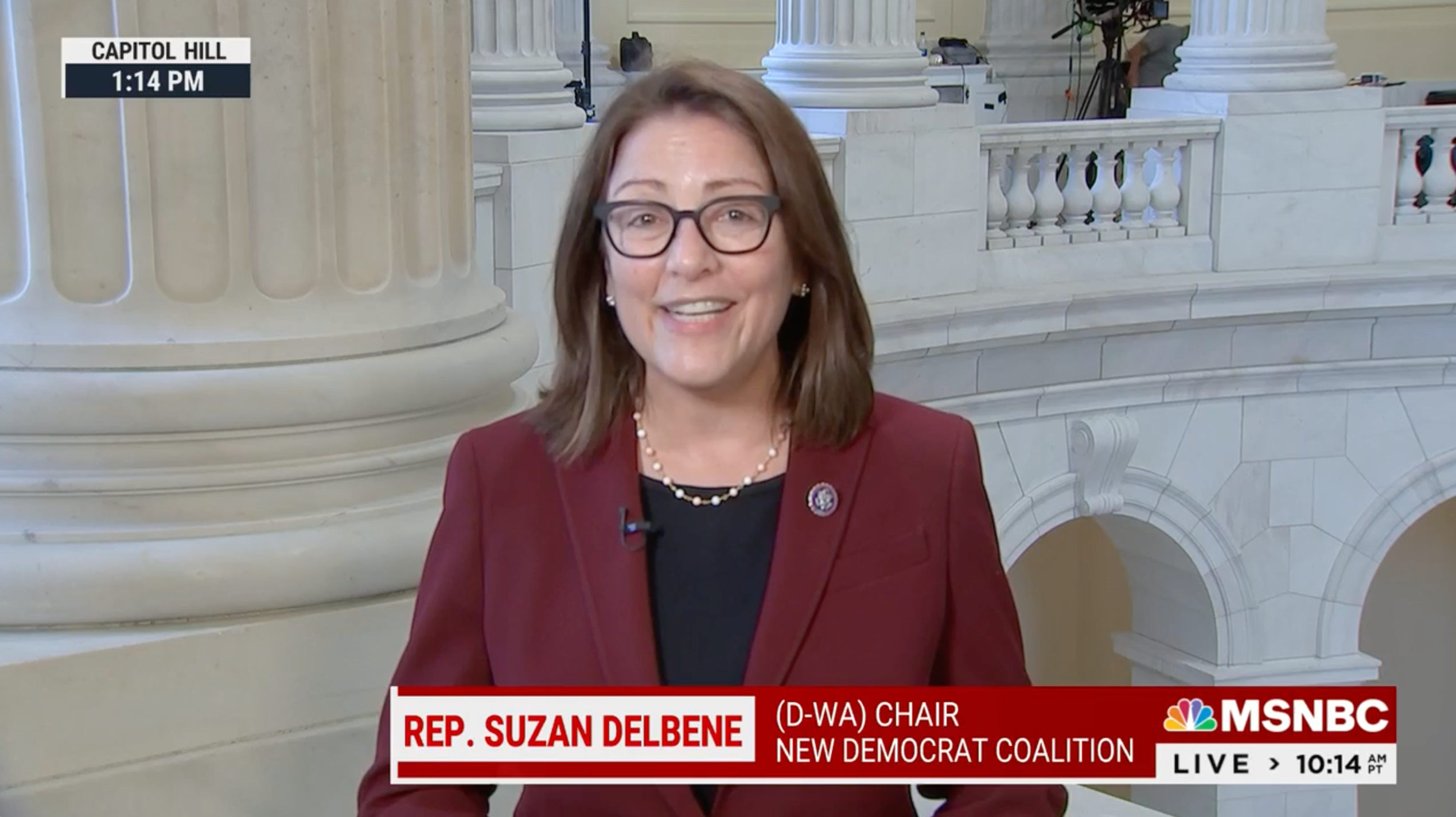 NDC Chair Suzan DelBene (WA-01) appeared on Meet the Press with Chuck Todd to reiterate that New Dems are focused on delivering results on the Build Back Better Agenda and doing a few things well for longer in reconciliation to provide certainty for Americans.
Member Bill Action
Houlahan Bill to Establish a Cybersecurity Training Pilot Program for Veterans Included in House-Passed NDAA
NDC Whip Chrissy Houlahan's (PA-06) bipartisan Federal Cybersecurity Workforce Act was included in the NDAA which passed the House last week. This legislation will establish a cybersecurity training pilot program at the VA for veterans and create a registered apprenticeship program at the DHS Cybersecurity and Infrastructure Security Agency focused on cyber and infrastructure security.
House Passes McEachin's Legislation to Protect National Heritage Area
The House passed Rep. Donald McEachin's (VA-04) Great Dismal Swamp National Heritage Area Act. This legislation directs the Secretary of the Interior to assess the suitability and feasibility of designating the Great Dismal Swamp, which was once a home and refuge to African American and Indigenous populations, and its associated sites as a National Heritage Area.
Member New Legislation
Schneider Introduces Legislation to Establish Manufacturing Tax Credits for Onshore Wind Energy
NDC Leadership Member Brad Schneider (IL-10) introduced the Onshore Wind American Manufacturing Act to establish investment and production tax credits to support domestic manufacturing of onshore wind energy components. This NDC-endorsed legislation will create good-paying jobs, improve our infrastructure, and help secure our energy independence while fighting climate change.
Mrvan Introduces Legislation to Extend COBRA Subsidies
Rep. Frank Mrvan (IN-01) introduced the COBRA Subsidy Extension for Workers and Families Act, which extends American Rescue Plan subsidies to cover the full cost of COBRA premiums through September 30th, 2022. This legislation will help laid off workers maintain affordable health care coverage and provide more certainty during the ongoing COVID-19 pandemic.
Davids Introduces Bill to Address U.S. Indian Boarding School Policies
On the National Day of Remembrance for U.S. Indian Boarding Schools, NDC Chair Emeritus Derek Kilmer (WA-10) and NDC Vice Chair Sharice Davids (KS-03) introduced The Truth and Healing Commission on Indian Boarding School Policies in the United States Act. This bill would seek healing for Native children and their communities by establishing a formal commission to investigate, document, and acknowledge past injustices of the federal government's Indian Boarding School Policies.
Veasey Introduces Resolution to Designate September as 'National Voting Rights Month'
Rep. Marc Veasey (TX-33), who is founder and co-chair of the Congressional Voting Rights Caucus, introduced a bicameral resolution to designate September as "National Voting Rights Month," to encourage voter registration and push Congress to restore the Voting Rights Act of 1965 to protect the right to vote.
Casten Introduces Bipartisan Legislation to Help Educational Support Professionals Access Benefits
Rep. Sean Casten (IL-06) introduced the bicameral and bipartisan ESP Family Leave Act, which would update the Family and Medical Leave Act to help more educational support professionals at schools, such as teacher's assistants, custodians, and maintenance staff, access its benefits without the risk of losing their job.
Member Action
Slotkin Welcomes President Biden to Michigan to Discuss the Transformational Impact of the Infrastructure Investment and Jobs Act
President Biden visited Rep. Elissa Slotkin's (MI-08) district in Michigan to talk about the once-in-a-generation investments we are going to make in our nation's infrastructure. The Infrastructure Investment and Jobs Act will rebuild roads, bridges, highways, as well as create good-paying jobs for Americans.
Craig, Allred, Lee, Schrier, Wild, and Malinowski via Newsweek: As 2018 Majority Makers, We Know Build Back Better is a Winning Agenda
Reps. Angie Craig (MN-02), Colin Allred (TX-32), Susie Lee (NV-03), Kim Schrier (WA-08), Susan Wild (PA-07), and Tom Malinowski (NJ-07) wrote an op-ed in Newsweek as the majority makers from the class of 2018 in support of passing President Biden's Build Back Better agenda, including the infrastructure bill and reconciliation package, because both bills deliver on the needs of their constituents and Americans.
Vargas and Jacobs Send Letter to President Urging for Better Treatment of Haitians at the U.S. – Mexico Border
Reps. Juan Vargas (CA-51) and Sara Jacobs (CA-53) sent a letter to President Joe Biden asking him to stop the mass deportation of Haitians at the U.S.-Mexico border and denouncing the inhumane treatment of the Haitian migrants and asylum-seekers. They wrote in part, "We applaud the strides that the Biden Administration has made to make the U.S. asylum system more humane. However, the continued use of Title 42, established under the Trump Administration, needs to end and asylum seekers must be given the opportunity to present their cases. As a nation founded by immigrants, we must assure that migrants are treated humanely. We request immediate attention by the Administration to these matters."
Wild via The Philadelphia Inquirer: After My Partner died of suicide, mental health issues became my focus
Rep. Susan Wild (PA-07) penned an op-ed in The Philadelphia Inquirer about how her partner's death has led her to focus on mental health issues as one of her top issues in Congress. From decreasing the stigma of mental illness to improving access to mental health resources, Rep. Wild is focused on taking action on mental health and recently introduced the Enhancing Mental Health and Suicide Prevention Through Campus Planning Act to help students.
Cárdenas Leads Letter Urging the Department of Labor to Improve Workforce Diversity and Accessibility Through Oversight of Internship Economy
Rep. Tony Cárdenas (CA-29) led 36 colleagues in a letter to the Department of Labor to help leverage internships to increase diversity, equity, inclusion, and accessibility by ensuring oversight and increasing data transparency of the internship economy.
---
---
Next Article
Previous Article
--->