September 27, 2021
New Democrat Coalition Weekly Wrap 9/27/2021
Last week, the House and Members of the New Democrat Coalition (NDC) advanced legislation to fund the government, address the debt ceiling, protect women's health, and secure our nation. The Coalition also continued to work on the Build Back Better agenda to make transformational investments in our infrastructure, create jobs, cut taxes for the middle class families, combat climate change, and provide more opportunity for American families.
Towards that end, NDC Chair Suzan DelBene met with President Joe Biden at the White House last week alongside a small group of other House members and Senators for a productive discussion on the path forward. The full Coalition also met on Tuesday with White House Legislative Affairs Director Louisa Terrell and National Economic Council Director Brian Deese. New Dems are critical to the advancement of the two bills, and the Coalition's focus remains on doing fewer things well for longer, rather than many things with delays or short-term cliffs.
More on what New Dems have been up to below.
Coalition Highlights
NDC Chair Suzan DelBene (WA-01) met with President Joe Biden last Wednesday for a productive discussion on the path forward for the Infrastructure Investments and Jobs Act and the Build Back Better Act. During the meeting, Chair DelBene made clear that New Dems are committed to delivering results for the America people and getting both bills done.
Last Tuesday, New Dem Members met with White House Legislative Affairs Director Louisa Terrell and National Economic Council Director Brian Deese to discuss the Coalition's priorities for the Build Back Better Act and how to deliver for Americans by creating millions of jobs, growing the middle class, lifting millions out of poverty, and lowering costs for families.
The NDC has been focused on a reconciliation bill that does a few things well for longer over many things for short periods with near-term cliffs or significant delays, and which includes our top priorities: investing in the future of children and families by extending the enhanced Child Tax Credit to at least 2025, creating lasting jobs and opportunities with comprehensive economic development grants in persistently distressed communities, going big on climate and using all tools available to lower emissions , and shoring up the ACA by increasing coverage and lowering costs.
The NDC made progress on these top reconciliation priorities as Committees reported out their reconciliation bills, including:
New Dems would have serious concerns with any scaling back of these key priorities in the final package.
To highlight the leadership of Black business leaders, and raise awareness of the disproportionate challenges faced by Black-owned businesses, and call for equal opportunity, the NDC and Rep. Terri Sewell celebrated National Black Business Month (NBBM). The New Democrat Coalition is committed to empowering more Black businesses to help build community wealth and close the racial wealth gap.
Many New Dems and other Members of the House Democratic Caucus participated in NBBM to host events and meetings including: Reps. Terri Sewell (AL-07), Chrissy Houlahan (PA-06), Debbie Wasserman Schultz (FL-23), Marilyn Strickland (WA-10), David Trone (MD-06), Lizzie Fletcher (TX-07), Mike Quigley (IL-05), Stephanie Murphy (FL-07), and Deborah Ross (NC-02).
Featured Video
NDC Chair Suzan DelBene on her Meeting with President Biden and the Need to Work Together on Crucial Priorities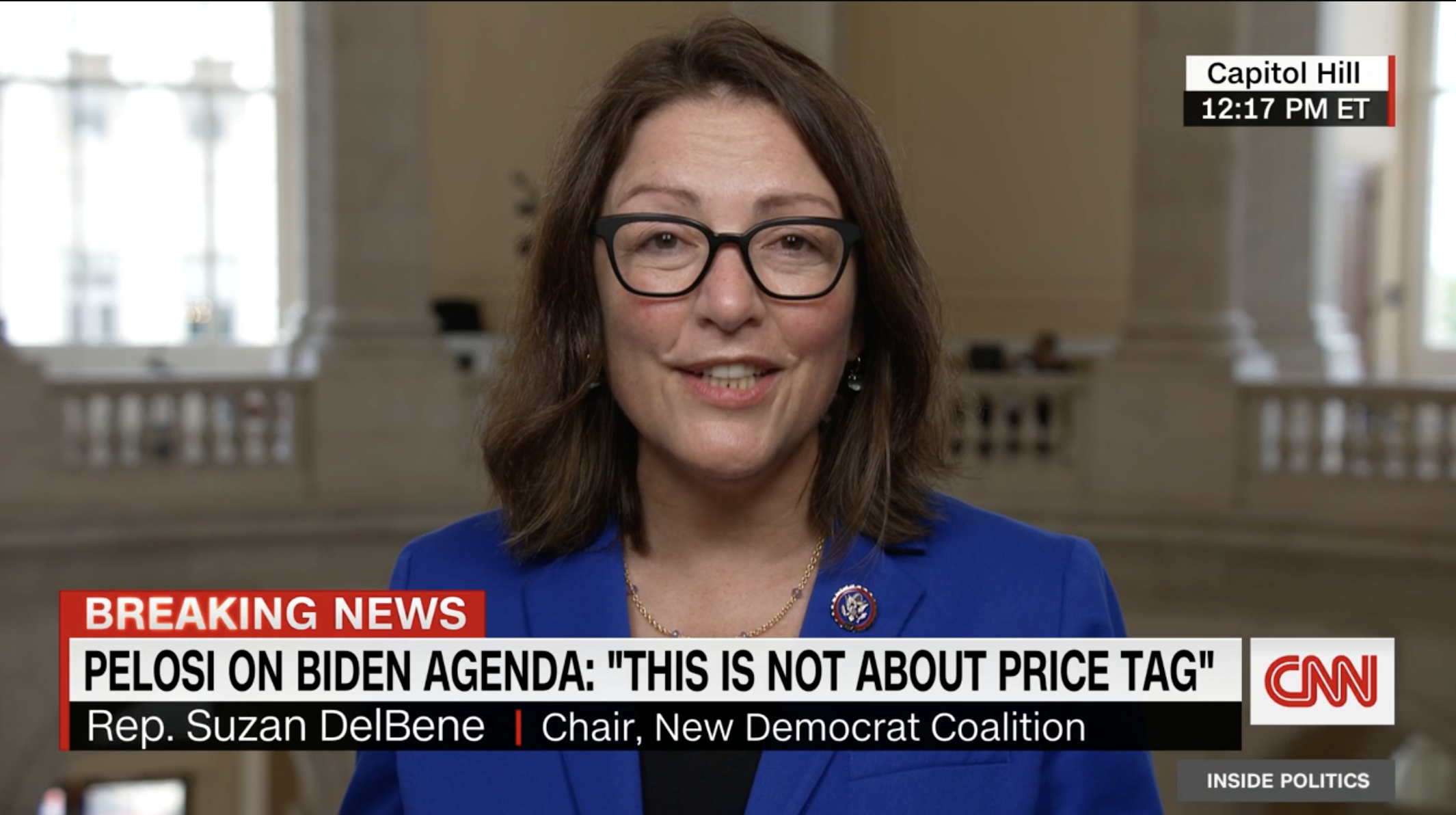 NDC Chair Suzan DelBene (WA-01) appeared on Inside Politics with John King on CNN to discuss her meeting with President Biden and the crucial partnership between Congress and the White house to get things done on reconciliation. Also check out Chair DelBene's appearance on MSNBC.
Member Bill Action
House Passes Rep. Moulton's Bill to Help Resettle Afghan Refugees
Rep. Seth Moulton's (MA-06) Welcoming Evacuees Coming from Overseas to Mitigate Effects of Displacement (WELCOMED) Act passed the House. Since many Afghan refugees had to be resettled quickly in the U.S., many are not eligible for government benefits America provides refugees entering through the traditional process. This bill would provide Afghan refugees with the same benefits other refugees have traditionally received.
Reps. Schiff and Meeks Bill to Support Victims of Anomalous Health Incidents Unanimously Passes the House
Reps. Adam Schiff (CA-28) and Gregory Meeks' (NY-05) Helping American Victims Afflicted by Neurological Attacks (HAVANA) Act passed the House this week. This legislation will grant additional authority to the Director of the CIA and the Secretary of State to provide disability benefits to Americans, such as intelligence officials and diplomats, afflicted by anomalous health incidents in Havana, Cuba, and around the world.
Member Legislation
Reps. Wild and Kuster Introduce "Once-In-A-Lifetime Public Works Project"
NDC Climate Change Task Force Co-Chair Susan Wild (PA-07) and NDC Vice Chair Annie Kuster (NH-02) introduced the Restore Environmental Economy and Improve Volatile Economy by the Civilian Conservation Corps (REVIVE) Act of 2021. This legislation would revitalize the Civilian Conservation Corps into a modern day national service, job training, and conservation program. This bill would also advance efforts to tackle the climate crisis and create well-paying, quality conservation jobs that protect and restore waterways, working lands and the health and resiliency of our rural and urban communities.
Rep. Lizzie Fletcher Introduces Bipartisan Legislation To Invest In and Improve Mental Health Care
In order to meet an increased demand for mental health care services, Rep. Lizzie Fletcher (TX-07) introduced the Collaborate in an Orderly and Cohesive Manner (COCM) Act. This legislation invests in the Collaborative Care Model, a specific care delivery model that integrates behavioral health care within the primary care setting for the treatment of mental health and substance use disorders that require regular follow-up, like depression, anxiety, and substance abuse.
Rep. Stanton Introduces Bipartisan Bill to Encourage Use of Drones for Infrastructure
Rep. Greg Stanton (AZ-09) introduced a bipartisan bill to authorize $100 million in grants for state, local and tribal governments to use drone technology to visually inspect infrastructure and another $100 million to train employees to properly use the drones. Using drones to conduct inspections in hard-to-reach places—such as underneath bridges—would save local governments significant money, speed up the inspection process and cut carbon emissions.
Member Action
NDC Chair DelBene and Rep. Strickland Celebrate National Small Business Week
To mark the end of National Small Business Week, NDC Chair Suzan DelBene (WA-01) and Rep. Marilyn Strickland (WA-10) had a great conversation with Washington state Black business owners on navigating the pandemic, expanding resources for BIPOC businesses, & crafting policy to help drive innovation and expand access to capital.
Rep. McEachin: "Remembering Virginia's 'Forgotten 14'" via The Washington Post
Rep. Donald McEachin (VA-04) penned an op-ed in The Washington Post addressing the need to honor the service and sacrifice of the United States Colored Troops (USCT), like the Forgotten 14, who fought valiantly during the Civil War. Despite their remarkable efforts and incredible contributions to the historical trajectory of the United States, their stories are largely missing from American history books.

He wrote, "The long period of silence about African American valor during the Civil War needs to end, and the heroic achievements of the USCT must be honored. We must continue our efforts to ensure the stories of the Forgotten 14 are told and honor their courageous sacrifice."
---
---
Next Article
Previous Article
--->