December 10, 2021
New Democrat Coalition Weekly Wrap 12/10/2021
New Democrat Coalition Becomes Largest Democratic Caucus with Addition of Two Members
NDC Chair Calls for Senate to Act on Build Back Better Act

The New Democrat Coalition welcomes Reps. Shontel Brown and Nikema Williams: This week, New Dems unanimously voted to induct Representatives Shontel Brown (OH-11) and Nikema Williams (GA-05) as the newest Members of the New Democrat Coalition (NDC), making the Coalition 97 members strong and the largest ideological caucus among House Dems. Reps. Brown and Williams bring a wealth of experience and expertise, and the New Dems look forward to working with them to create good-paying jobs, grow the economy, and strengthen the middle class. Read more.
NDC Chair Calls on Senate to Pass the Build Back Better Act Before the Child Tax Credit Expires: Also, this week NDC Chair Suzan DelBene (WA-01) released a statement calling on the Senate to act on the Build Back Better Act before the expanded Child Tax Credit expires at the end of the year.
The statement reads in part: "Our members stood united in passing the Build Back Better Act last month and now it is time for the Senate to act before the expanded Child Tax Credit payments expire at the end of December. American families cannot afford to lose this critical middle-class tax cut, which has cut child poverty in half and helped millions of families afford childcare, pay their bills, and put food on the table." Read more.
New Dems Continue their work to fix our supply chain chains, fight inflation, and unleash American innovation: New Dem Members met with Pat Gelsinger, the Chief Executive Officer of Intel, to talk about the steps Congress can take to help secure U.S. supply chains and boost domestic manufacturing of critical technologies, including microchips and semiconductors. The NDC is working to advance policy solutions to grow the economy, create jobs, and ensure the U.S. continues to lead the world in tech innovation. See Photo HERE.
More on what New Dems have been up to below.
NDC Chair DelBene Speaks with Punchbowl's Anna Palmer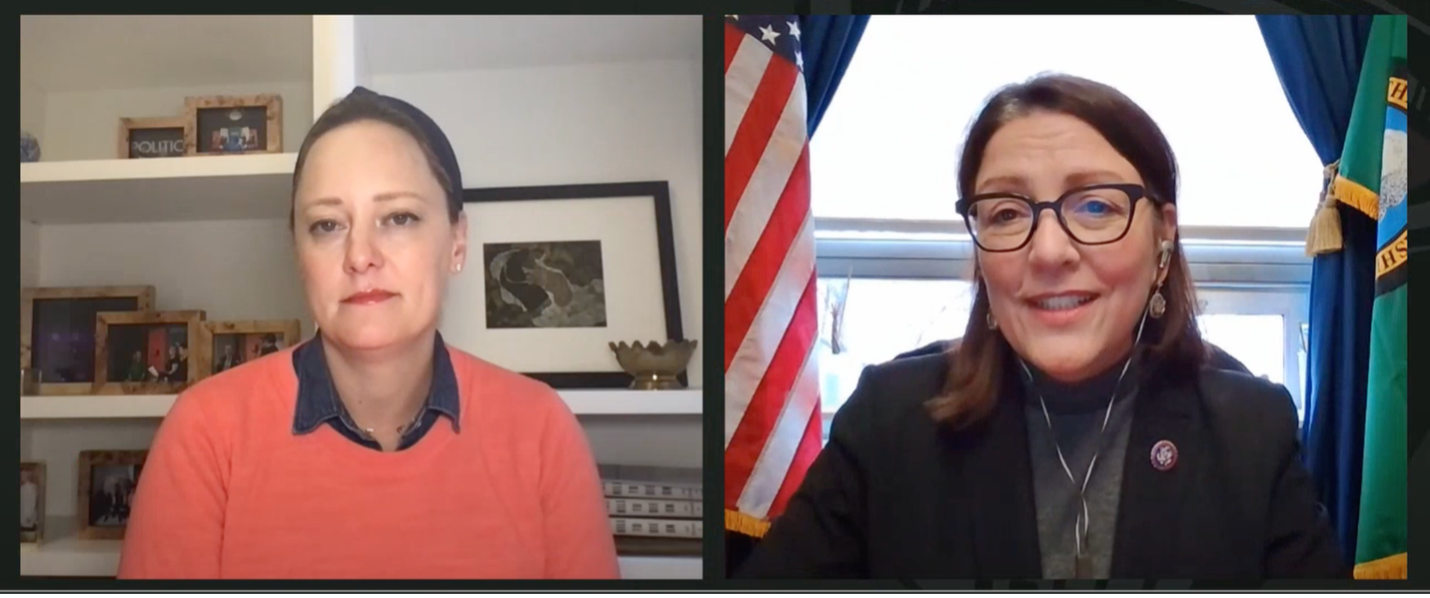 At a Punchbowl News "Pop-Up Conversation," NDC Chair Suzan DelBene (WA-01) spoke with Anna Palmer about the need for Senate action on the Build Back Better Act before the expanded Child Tax Credit expires.
NDC Leadership Member Schneider on "Meet the Press"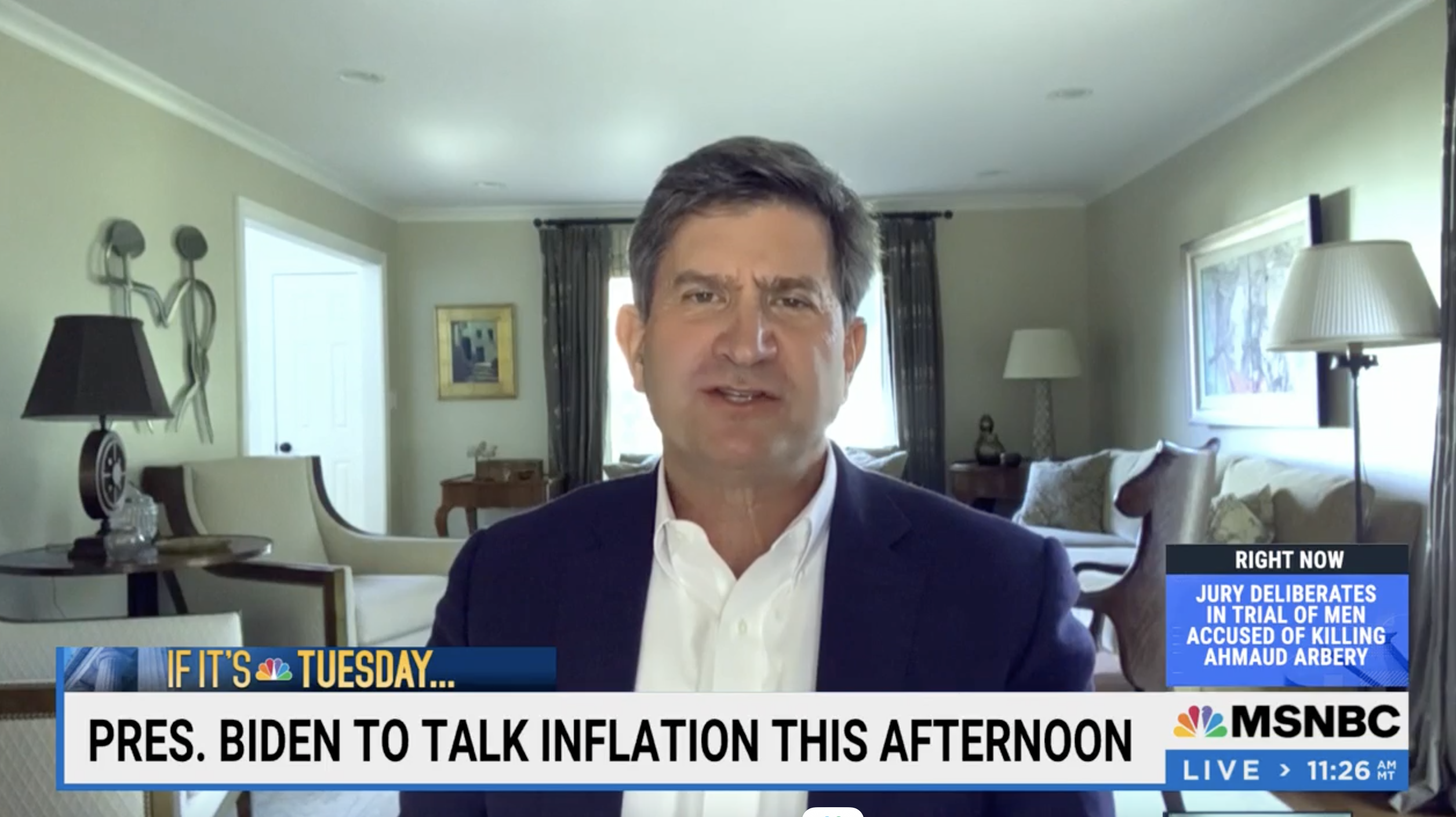 NDC Leadership Member Brad Schneider (IL-11) went on "Meet the Press" to speak with Garrett Haake about how New Dems are focused on substantive policies in the Build Back Better Act that deliver for Americans.
Member Bill Action
Kuster's Bipartisan Legislation to Improve National Vaccine Infrastructure Passes the House
NDC Vice Chair Annie Kuster's (NH-02) H.R. 550, the Immunization Infrastructure Modernization Act passed the House. This legislation will improve and expand information-sharing between state and federal governments, as well as public and private health care providers, to ensure vaccines are being administered effectively and efficiently across all states and territories.
Schiff Legislation to Strengthen America's Democratic Institutions Passes House
Rep. Adam Schiff's (CA-28) H.R. 5314, the Protecting Our Democracy Act passed the House. This legislation is a comprehensive package of reforms to restore the federal government's system of checks and balances, strengthen accountability and transparency, and protect America's elections from foreign interference.
Sewell Legislation to Address the Maternal Health Crisis Passes the House
Rep. Terri Sewell's (AL-07) H.R. 951, the Maternal Vaccination Act passed the House by unanimous consent. This legislation addresses the U.S.'s maternal health crisis and provides critical funding to help increase immunization rates amongst pregnant and post-partum individuals.
Horsford and Schrier's Legislation to Prevent Cuts to Medicare Passes the House
NDC Health Care Task Force Co-Chair Kim Schrier (WA-08) and Rep. Steven Horsford's (NV-04), the Protecting Medicare and American Farmers from Sequester Cuts Act passed the House. This legislation extends a temporary halt of Medicare cuts during the COVID-19 pandemic.

Member New Legislation
Schrier Introduces Bipartisan Legislation to Identify Ways to Mitigate Supply Chain Issues and Manufacture More Goods in the U.S.
Rep. Kim Schrier (WA-08) introduced H.R. 6152, the Critical Infrastructure Manufacturing Feasibility Act, which will identify how supply chain issues can be mitigated and how more goods, that come with jobs, can be created in the U.S.
Connolly Introduces Bill to Recruit Next Generation of the Federal Workforce
Rep. Gerry Connolly (VA-11) introduced the Building the Next Generation of Federal Employees Act, which would establish a Federal Internship and Fellowship Center within the Office of Personnel Management to administer, manage, and promote all federal internship and fellowship programs. This legislation would help the federal government leverage internships to attract a qualified and diverse pool of candidates to the federal workforce.
Strickland Introduces Legislation to Help Servicemembers Access Fertility Care
Rep. Marilyn Strickland (WA-10) introduced H.R. 6094, the Expanding Access to Fertility Care for Servicemembers and Dependents Act, which would expand TRICARE coverage to make Assisted Reproductive Technology services available to all active-duty servicemembers and dependents.
Costa Introduces Bipartisan Legislation to Fund Wildlife Conservation
Rep. Jim Costa (CA-16) introduced H.R. 6023, the Multinational Species Conservation Funds Semipostal Stamp Reauthorization Act, which requires the U.S. Postal Service to sell approximately 45million "Saving Vanishing Species" Stamps to promote wildlife conservation.
Member Action
Davids Joins President Biden to Tout Infrastructure Bill in Kansas City
NDC Vice Chair Sharice Davids (KS-03) joined President Joe Biden in the Kansas City area to highlight the big investments and good jobs the bipartisan Infrastructure Investment and Jobs Act is bringing to the Kansas area.
Stanton Leads Bipartisan group to Call on Homeland Security Secretary to Launch Southwest Tourism Expansion Pilot Program
Rep. Greg Stanton (AZ-09) led a bipartisan, bicameral group of Arizona Members of Congress to urge Homeland Security Secretary Alejandro Mayorkas to provide an updated timeline on the implementation of the Southwest Tourism Expansion Act pilot program, which would help foster economic growth, productivity, and commerce.
Trahan and Secretary Granholm Highlight Historic Federal Weatherization Investments
Rep. Lori Trahan (MA-03) joined with U.S. Department of Energy Secretary Jennifer M. Granholm to highlight historic federal investments from the bipartisan Infrastructure Investment and Jobs Act that will weatherize homes and buildings to save hardworking families money.
---
---
Next Article
Previous Article
--->