December 17, 2021
New Democrat Coalition Weekly Wrap 12/17/2021
New Democrat Coalition Announces Priorities for U.S. Innovation and Competition Act Negotiations

NDC Chair Continues Call for Senate to Pass the Build Back Better Act and Extend Enhanced Child Tax Credit before it expires on December 31
New Democrat Coalition Calls for Swift Action on Legislation to Strengthen U.S. Supply Chains, Create Jobs, and Cut Costs for Americans: This week, the New Democrat Coalition (NDC) announced priorities for the final version of the Senate-passed U.S. Innovation and Competition Act (USICA) that will address Americans' economic concerns by strengthening American supply chains, fighting long-term inflation, cutting costs, and giving workers, families, and businesses new opportunities to succeed. Read more.

The priorities New Dems released for USICA this week are to:
Secure U.S. Supply Chains for Critical Goods and Technologies

Create Jobs and Spur Innovation across the country

Increase Investments in Scientific and Engineering Research

Strengthen American Global Leadership
New Democrat Coalition Chair Suzan DelBene (WA-01), NDC Vice Chair for Policy Scott Peters (CA-52) and Reps. Haley Stevens (MI-11), Susan Wild (PA-07), and Lisa Blunt Rochester (DE-AL) held a press call this week to discuss these priorities and the path forward on important legislation to address supply chain challenges and invest in American innovation. See moments from the press event here and here and read the transcript of Chair DelBene's remarks here.

On the Final Day of the Child Tax Credit Payments, NDC Chair Continues to Urge Senate to Pass the Build Back Better Act and Extend Middle Class Tax Cut: Also this week, NDC Chair Suzan DelBene (WA-01) released a statement continuing her call for urgent Senate action on the Build Back Better Act before the expanded Child Tax Credit expires.
The statement reads in part: "It's time to decide. I strongly urge my Senate colleagues to pass the Build Back Better Act quickly so we can provide certainty for the 36 million families who depend on this middle-class tax cut and Americans can continue to keep more of their paychecks in the New Year." Read more.

New Dems Meet with Dr. Anthony Fauci: New Dem Members met with Dr. Anthony Fauci on Tuesday for a discussion on COVID-19, the new Omicron variant, and the Biden administration's ongoing pandemic response and efforts to increase vaccinations. The NDC hopes everyone's holidays are safe, healthy, and joyful, and urges everyone who can to get fully vaccinated with a booster shot, as recommended by the CDC. See Photo here.
More on what New Dems have been up to below.
New Dems in the News
New Dems are "Persons of the Year: The Democrats Driving Tax Policy" via Forbes
The NDC, led by Chair Suzan DelBene (WA-01), was featured as a Person of the Year in Forbes for our work to extend the enhanced Child Tax Credit.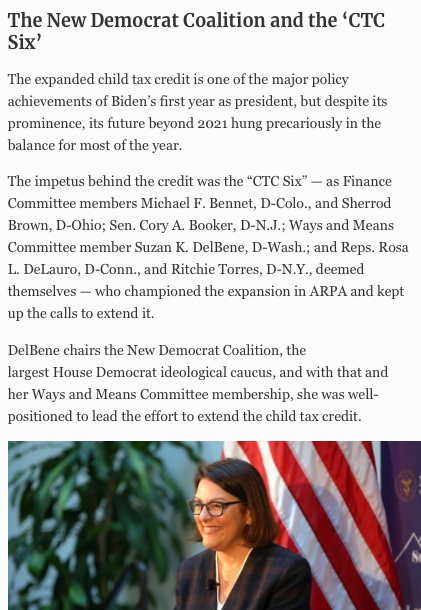 NDC Chair DelBene on Passing the Build Back Better Act via The Washington Post: "The longer we wait, the harder it gets."
Chair DelBene reiterated the NDC's call to pass the Build Back Better Act as soon as possible to deliver on crucial programs for American families to The Washington Post.
"The one thing we hear from folks across all purple districts is they want to see governance work," DelBene told us. "We need to get it done."
Wasserman Schultz Highlights Transformational Investments from Bipartisan Infrastructure Law via NBC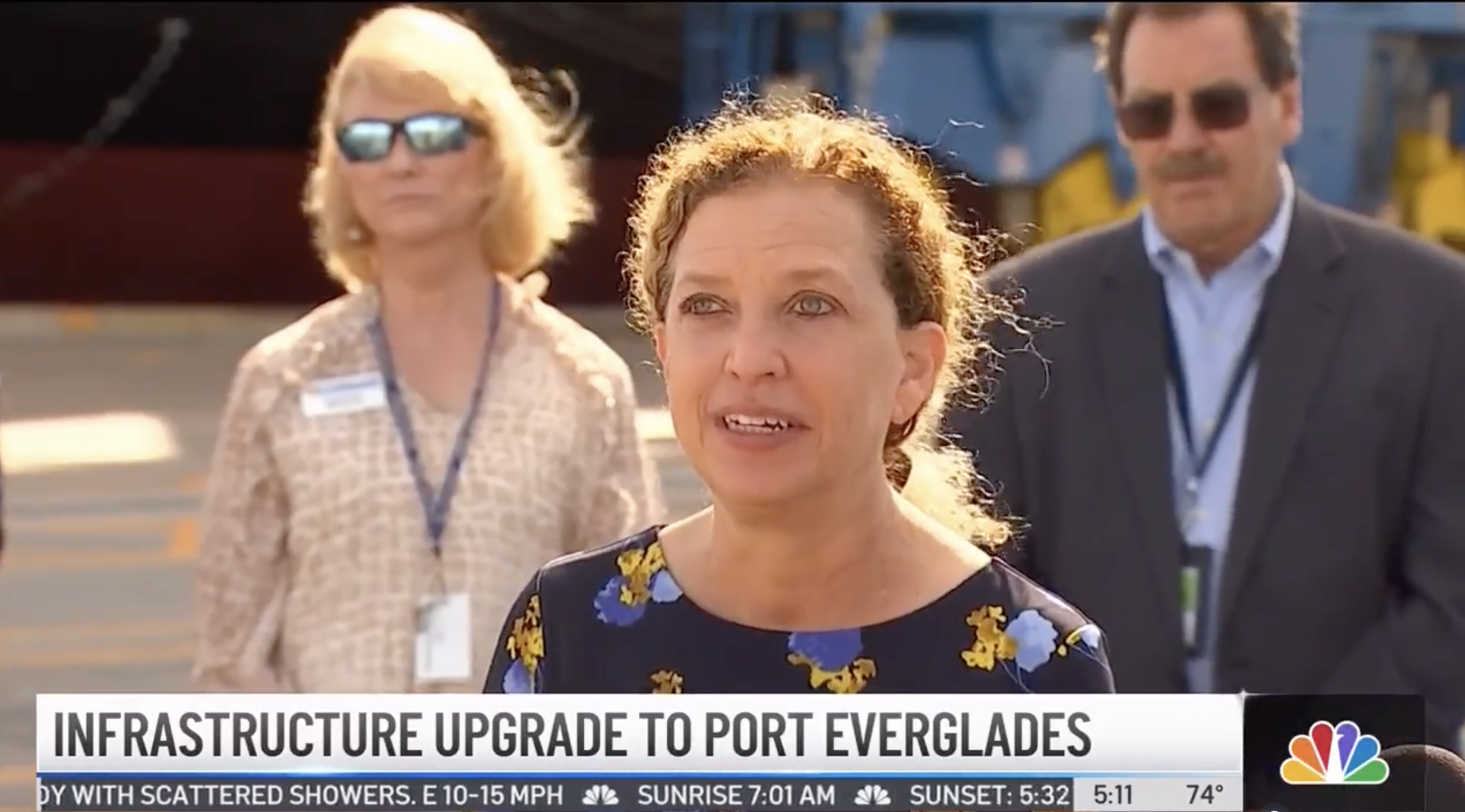 Rep. Debbie Wasserman Schultz (FL-23) highlighted how the Infrastructure Investment and Jobs Act is bolstering supply chains and creating millions of jobs in her Florida district and across the U.S.

NDC Chair DelBene on extending the enhanced Child Tax Credit via the Associated Press: "Families deserve that predictability and certainty"
As the last Child Tax Credit payments reach families this week, NDC Chair Suzan DelBene (WA-01) spoke to the Associated Press on the need to extend this crucial lifeline for families.
Member Legislation
Axne Introduces Legislation to Strengthen U.S. Manufacturing Supply Chains
NDC Rural Reinvestment Task Force Co-Chair Cindy Axne (IA-03) introduced the bipartisan Manufacturing.gov Act, a companion to the Senate-passed bill. which would establish a website to serve as a hub to connect manufacturers with federal manufacturing programs. The Manufacturing.gov Act addresses a Government Accountability Office report that found the federal government maintains 58 different manufacturing programs across 11 federal agencies—creating unnecessary hurdles and making it more difficult for manufacturers to access these programs.
Manning Introduces Legislation to Cap Out-Of-Pocket Prescription Costs for Patients
NDC Freshman Leadership Representative Kathy Manning (NC-06) introduced the bicameral Capping Prescription Costs Act with Senator Raphael Warnock (D-GA). This legislation takes proactive steps to protect Americans from rising prescription drug costs by limiting cost-sharing for prescriptions under ACA marketplace health plans and group health plans to $250 per month for individuals and $500 per month for families.
Fletcher and Malinowski Introduce Legislation in Response to Texas Anti-Choice Law
NDC Trade Task Force Co-Chair Lizzie Fletcher (TX-07) and Rep. Tom Malinowski (NJ-07) introduced H.R. 6300, the Stopping Abortion Bounties Act, which is a response to Texas Senate Bill 8, the Texas Heartbeat Act. This legislation would impose a 100% federal tax on any bounty obtained under the Texas law or legislation like it, and directs the revenues raised to a fund within the Department of Treasury that would reimburse any organization or individual ordered to pay the bounty.
Trahan and Moulton Introduce Legislation to Protect Servicemembers' Stored Belongings
Reps. Lori Trahan (MA-03) and Seth Moulton (MA-06) introduced H.R. 6278, which amends the Servicemembers Civil Relief Act to hold storage facilities, towing companies, or other offenders accountable for knowingly selling or disposing of the property of a service member without a court order by elevating the consequences to the level of a felony with fines and up to three years imprisonment.
Member Action
Fletcher and Veasey Lead Letter to President Biden Discouraging Ban on Crude Oil Exports
NDC Trade Task Force Co-Chair Lizzie Fletcher (TX-07) and NDC Member Rep. Marc Veasey (TX-33) sent a letter to President Biden opposing recent calls to reinstate a ban on crude oil exports. The letter advocates for the benefits of domestic oil production such as supporting American jobs and global supplies.
Casten Highlights Investments from Bipartisan Infrastructure Law with Secretary Granholm
NDC Climate Change Task Force Co-Chair Sean Casten (IL-06) joined Department of Energy Secretary Jennifer Granholm for a Midwest Clean Energy Innovation Tour. They discussed how the bipartisan Infrastructure Investment and Jobs Act, which was signed into law by President Biden, will expand access to cleaner, cheaper energy and lower costs for families.
Williams Welcomes Secretary Raimondo to Announce Regional Development Efforts
Rep. Nikema Williams (GA-05) welcomed Department of Commerce Secretary Gina Raimondo to her district to discuss supporting locally-driven efforts to boost regional economies.
---
---
Next Article
Previous Article
--->